Is a little sunny spot.
Follow the road to find a secret onsen*.
Filled with life by the people of this city,
Welcome to the back alley spirit of Kamiya Onsen.
*An onsen is a public hot spring.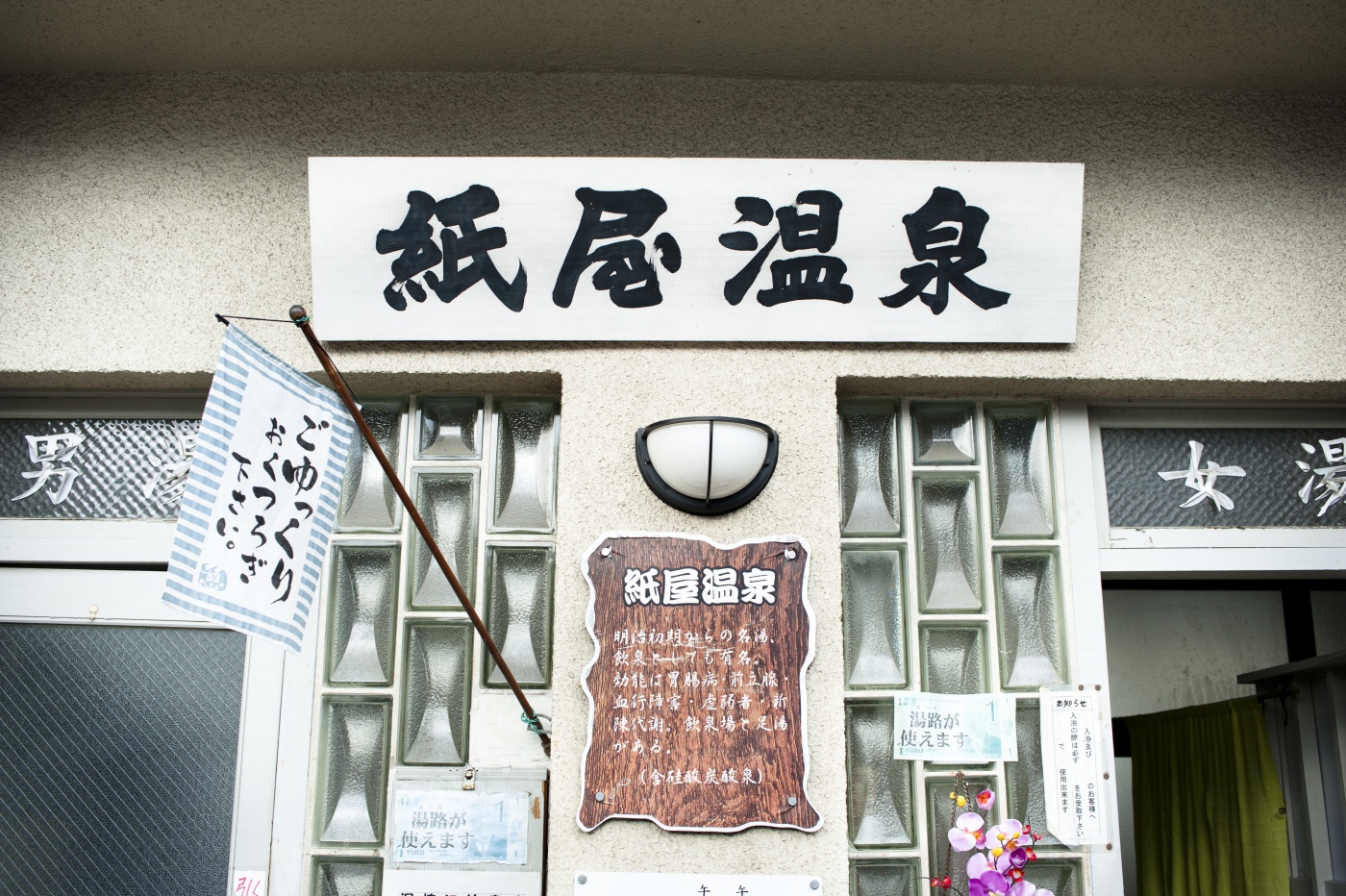 On an inconspicuously placed sign were written the words "Back alley spirit, Kamiya Onsen". Following the sign took me down a dark back alley so narrow that two people can barely pass through side by side. Just as I was starting to get a bit worried I might be lost, I turned the corner to find a building showered with sunlight – a tiny onsen, so small you might walk right past it if you weren't paying close attention.

Near the entrance was a foot bath and hot water for drinking. I reached out and touched the warm water pouring out, which thawed my cold fingertips. "Try drinking that water. It's good," said a man who appeared on a bicycle. Using the provided ladle, I took a drink from the spring as advised. The water had a faint scent of hard boiled eggs and went down quite easy. "If you make coffee with this water it'll taste different. People say it makes it sweeter. The water's pretty mild anyway. I bring some of it home every day after my bath," said the man as he filled a plastic bottle with the water.

The baths of Kamiya Onsen open officially at 1 PM, but the bath house receptionist let me go in early. "Go on in," he said, "there's already a few people inside." I paid the 100 yen entrance charge and stepped inside. In the dressing room, separated by only a curtain, an old woman sat nude on a bench and chatted with the receptionist.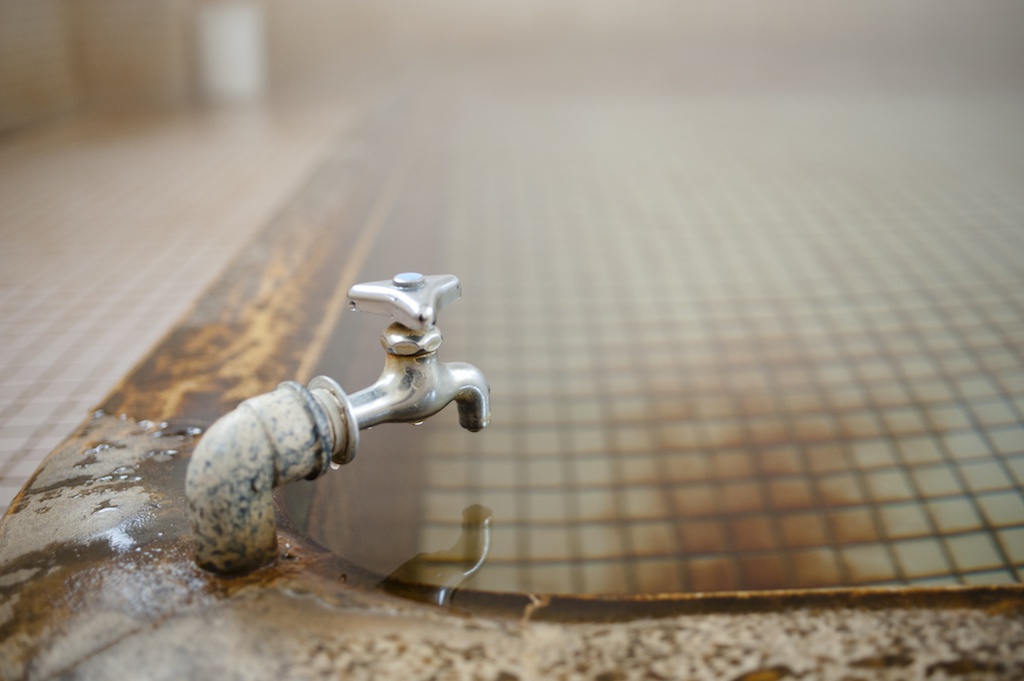 The baths were shrouded in a thick, white cloud of steam. Timidly I walked in and said hello. "If you don't have a wash bucket you can grab one from that pile over there," said someone whose face I couldn't make out through the steam. "That bath's hot. If it's too hot you can get some cold water from the faucet over here," said another seasoned regular. The spring water flowing into the bath was at 52℃, so I added some cold water to cool it down while steadily sinking into the tub. As my body gradually acclimated itself to the hot water, I could almost feel it penetrating and soaking into my skin. "Have you heard about the water here?" said a woman sitting next to me who comes here often with her husband from the next town over. "This water makes you beautiful. You can bathe in it and you can drink it too!"
This onsen has been well-known and revered since the beginning of the Meiji era (1868–1912). Written in an esteemed Japanese onsen almanac from 1908 are the words, "The hot springs at this onsen are truly serene and bare no unpleasant smell. Because the water is relatively tepid, this is a good choice for spring and summer bathing," The lively, glowing regulars who come to Kamiya Onsen are living proof of its health benefits.

Things to know when visiting Kamiya Onsen:

1. Provided are wash buckets; everything else you must bring yourself.
2. The price for a shampoo is 40 yen.
3. On the left side of the bath is a spicket where the hot spring water comes out. If it's too hot we recommend staying near the cold water tap.
4. Let the people around you know before adding cold water to the bath.
5. There is drinkable water in the bathing area, so bring a cup or bottle with you inside.
6. After your bath, please enjoy a drink from the spring water outside.

The onsen is something we all share, so please follow the rules and enjoy the baths politely.

A rosy cheeked woman emerged from the onsen, set her bath supplies down on the bench and promptly went for a drink of spring water. She downed three ladles full, and after the fourth let out a satisfied sigh. During that time I took a peek at the contents of her bath supplies. Inside a well broken-in wash basin was a bottle of shampoo, a few towels of different sizes, and rose-scented body soap.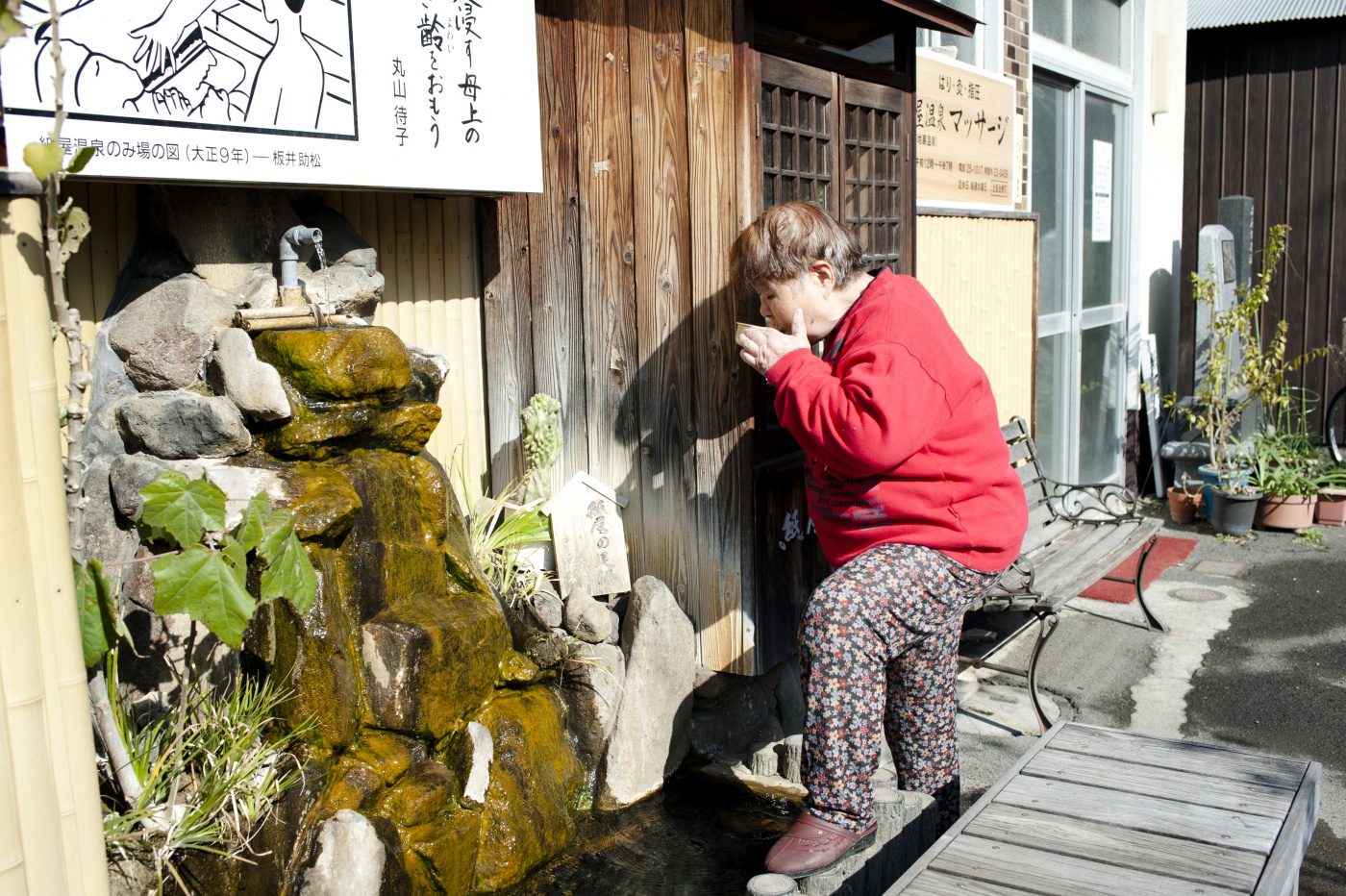 The woman said she had been living in Beppu for over 50 years, having moved here from Kunisaki City in Oita Prefecture when she was 15. "When I was about 20, a man I worked with was the receptionist at this onsen. He told me I should come take a bath here, so that's what started it," said the woman. She also told me that her son would always bring her here when she wasn't feeling well. I asked her why she prefers this onsen and her answer was to the point, "Well, because it feels good!" She also added that "everyone knows each other and gets along." She stood up from the bench, took one last drink of spring water and said, "Well, my cat's waiting for me so I better get home." With that, she was on her way, pushing a small handcart along.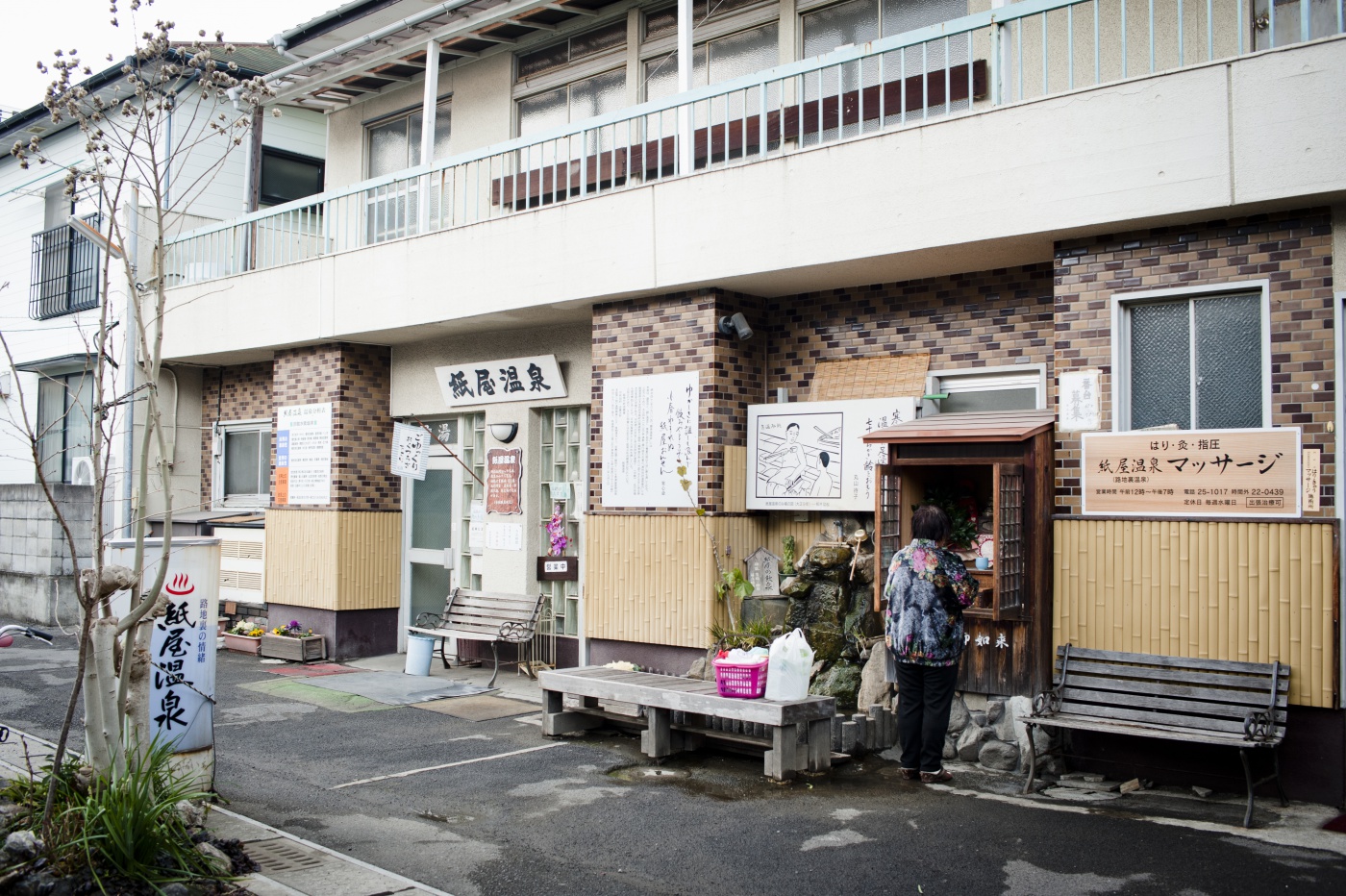 Following suit, I had a drink from the spring water after my bath. Even in the cold winter, the spring water was able to warm my body throughout.

yukashisa ni dareshimo kunde, nomiyarouzo
koharu wasurenu, Kamiya Onsen

This senryū*, as well as the history of Kamiya Onsen, is written on a plack near the entrance. The spring water of this onsen, known for its effectiveness in alleviating intestinal problems, was brought to Osaka in the early Showa Era (1926–1989) to be marketed as yaku yu (medicine water) by Kansai Kisen, a shipping company that once existed in Japan.
*Senryū is a Japanese form of short poetry similar to haiku in construction.

"The hot water here doesn't get cold. It'll stay warm for three hours," boasted the onsen caretaker. "I was tricked. I took one drink of the spring water, and the next thing I knew I had become the caretaker. My wife was so mad!" He's been managing Kamiya Onsen now for 25 years. The people of this city have watched over and cared for this onsen together for generations. "The lady from before is late today." "She said she's not coming today." I listened to the casual conversations of the onsen regulars, and I realized that an onsen is a place where people come for connection. The warmth I felt the moment I laid eyes on Kamiya Onsen, was none other than the warm hearts of the people who gather here.

"Come see us again sometime," said the caretaker as I went on my way. I'm sure I'll be back to see him again soon.
– Today's Takeaways –
Drank spring water rich in minerals.
Soft and beautiful skin (possibly).
Energy and smiles from the people of this city.
Kamiya Onsen
| | |
| --- | --- |
| address | 17-27 Chiyo-machi, Beppu-shi |
| hours | 13:00-23:00 |
| closed on | N/A |
| tel | 080-8531-6687 |
| parking | five spaces |
| recommended for | Public bath fee 100 yen / Shampoo fee 40 yen (free for elementary school students and younger) |