Into the baths
Look and behold.
This magnificent structure stands with dignity and strength.
Is it a temple? A ryokan*?
No – this is a public bath, where the people of this city gather.
Welcome to Takegawara Onsen.
*A ryokan is a type of traditional Japanese inn.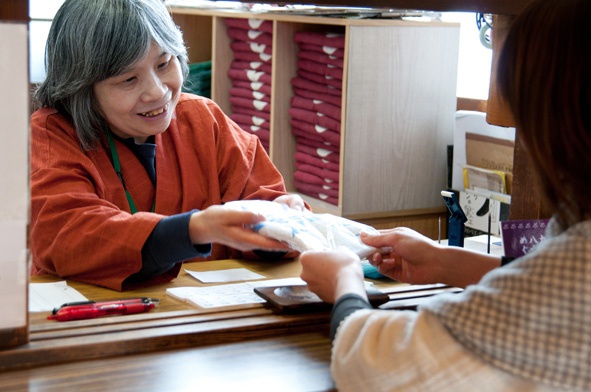 "Welcome, come on in."
The woman at the front counter greeted me and welcomed me inside with a smile.
"The bath is 100 yen. We only provide wash basins. Did you bring a towel?" She handed me a bath towel which was printed with a retro looking graphic. I bought one to take home as a souvenir.
"The baths are through the noren*. Please enjoy and take your time."
*A noren is a traditional Japanese fabric divider commonly hung between rooms or in doorways.
I stepped into the spacious, quiet lobby, where time had seemed to have become frozen. An old clock ticked and tocked audibly, almost as if to say "there's plenty of time, so just relax."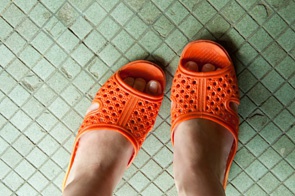 A crimson noren, printed with the silhouette of a woman wearing her hair in a Japanese style, serves as the entrance to the women's bath.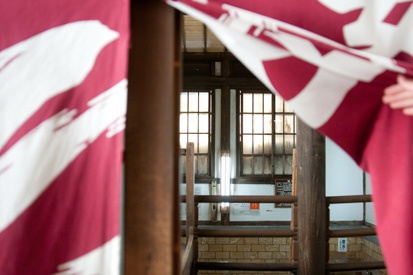 As soon as I passed through the noren, a slight warmth in the soft and gentle air welcomed me and eased the tension in my muscles. There is no wall or window dividing the dressing room from the baths, just a balcony and a staircase leading down to them. I took hold of the hand rail and descended the stairs to find a U-shaped bath.
First I scooped some water on myself to acclimate my body to the temperature. Once I felt ready I sank into the bath, stretching my arms, legs, and back as I went. My body let out an involuntary moan. This was heaven.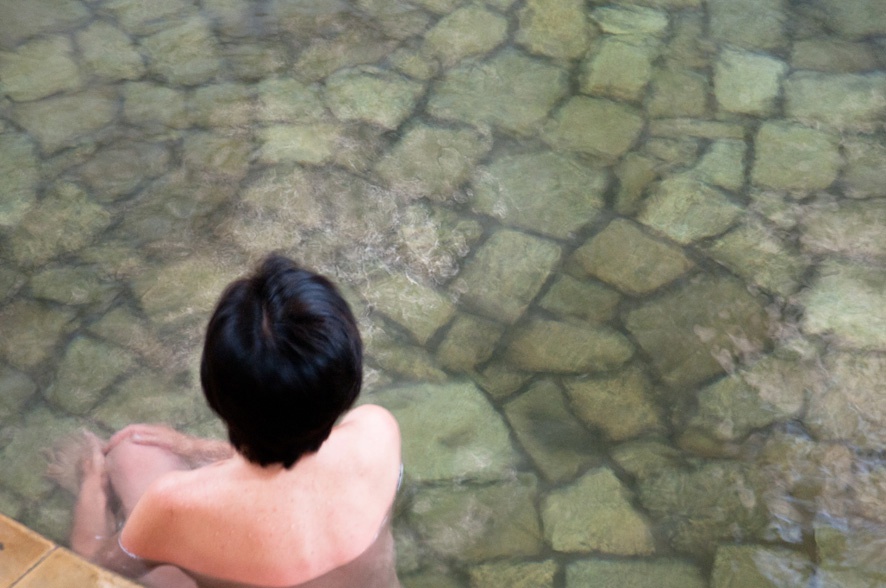 As I soaked in the bath staring up at the high, atrium ceiling, a woman suddenly spoke to me. "Feels good?"
The water here is nice and soft, isn't it? I've been coming here for more years than I can count," she said with a smile. I wished I could have stayed and continued listened to her stories, but I was already getting too hot to stay in the bath.
"Goyukkuri."*
*Goyukkuri is a Japanese expression that roughly translates to "please take your time and enjoy".
After the bath I sat on the bench in the dressing room and gave my flushed body a moment to rest.
I admired the amber colored lockers, beautifully weathered from years of use, and the cute, round mirrors.
Things to know when visiting Takegawara Onsen:
1. Provided are wash buckets; everything else you must bring yourself.
2. The lobby and the dressing room are divided only by a noren. Move away from the entrance if it makes you uncomfortable.
3. Be sure to wash the lower half of your body before getting in the bath.
4. The edge of the bath is not for sitting.
5. The spring water here is quite hot. If you aren't comfortable with very hot water, we recommend staying close to the cold water tap near the wall.
6. After your bath feel free to relax in the spacious break room.
The onsen is something we all share, so please follow the rules and enjoy the baths politely.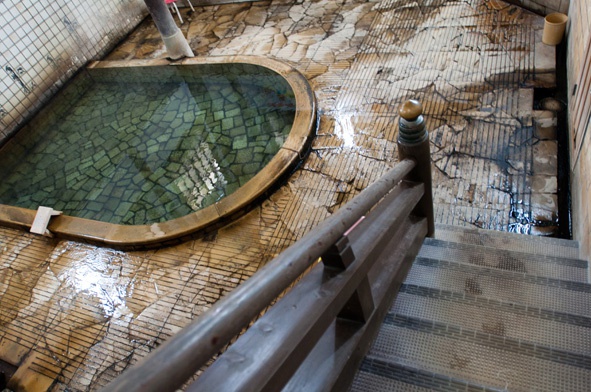 "Ahh, such a nice bath."
A flush-faced old man with towel-dried hair took a break in the lobby as I observed his daily onsen carry: a weathered body towel and a large soap case inside a beat up nylon bag.
"That's milk soap. Nobody uses soap this big, but to me it's just right," he said, sounding quite pleased with himself.
Attached to his nylon bag was a commuter pass case. In it was a piece of paper with the numbers 1 to 180 and circles stamped in red ink.
"This? They give you these bath house passes once you get to be my age. Pretty nice, right?"
He laughed in a slightly boastful manner. "So you can bathe for free 180 days?" I asked.
"That's right – 180 days."
I shouldn't be surprised though – this is Beppu after all. Bathing every day at an onsen would be quite the luxury. I'm a bit jealous!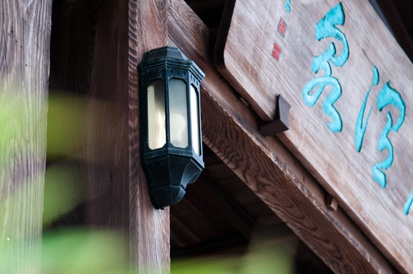 Takegawara Onsen
address
16-23 Motomachi, Beppu-shi
hours
regular bath 6:30-22:00
hot sand bath 8:00-22:30
closed on
regular bath N/A (temporarily closes for year-end cleaning) / hot sand bath closed on third Wednesday of the month (or the following day Wednesday is a national holiday)
tel
0977-23-1585
parking
none
recommended for
regular bath 100 yen / hot sand bath 1030 yen