Jigoku Mushi cooking, a style of cooking using the steam from natural hot springs to cook food, is one of Beppu's most famous customs. At Jigoku Mushi Kobo Kannawa visitors can experience this cooking style first hand by steaming and eating their own food – a variety of vegetables, meats, and seafood.
People come from all around Japan and abroad to experience this unique custom which can only be found here. Jigoku Mushi Kobo Kannawa is so popular in fact that on weekends and holidays the wait time can be as long as two or three hours. "While you're waiting why not enjoy the free foot baths or walk around to some of the many onsens nearby?" suggested the manager.
I visited in the morning, before it starts to get crowded. The menu featured a bountiful lineup, with meat and vegetable platters as well as a-la-carte items.  It all sounded so good I couldn't decide.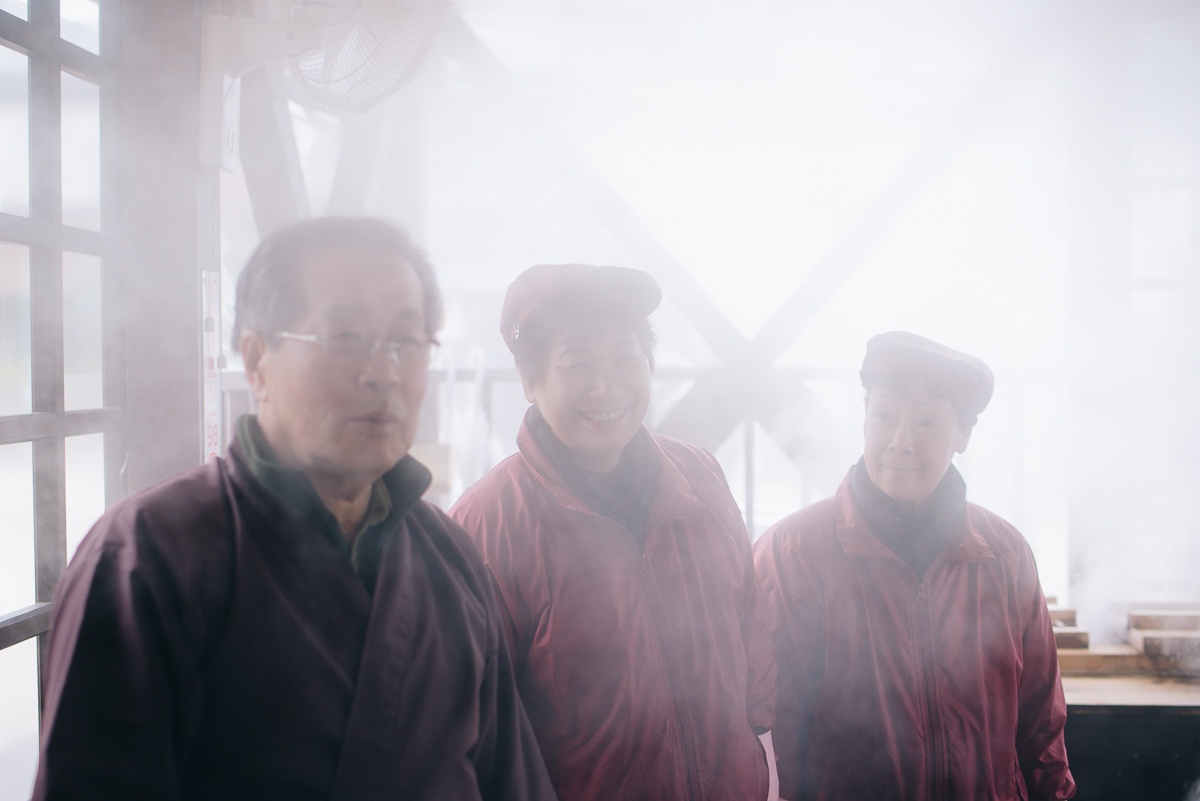 "The vegetables really do taste better when you steam them here. This is a sodium chloride hot spring, so the steam adds a slight saltiness to the vegetables. Also you must try the steamed eggs – they're from Oita Prefecture," said the manager. I settled on the vegetable platter with spicy chicken. The menu changes from one season to the next, and you can also bring your own food, then all you have to pay for is use of the cookware.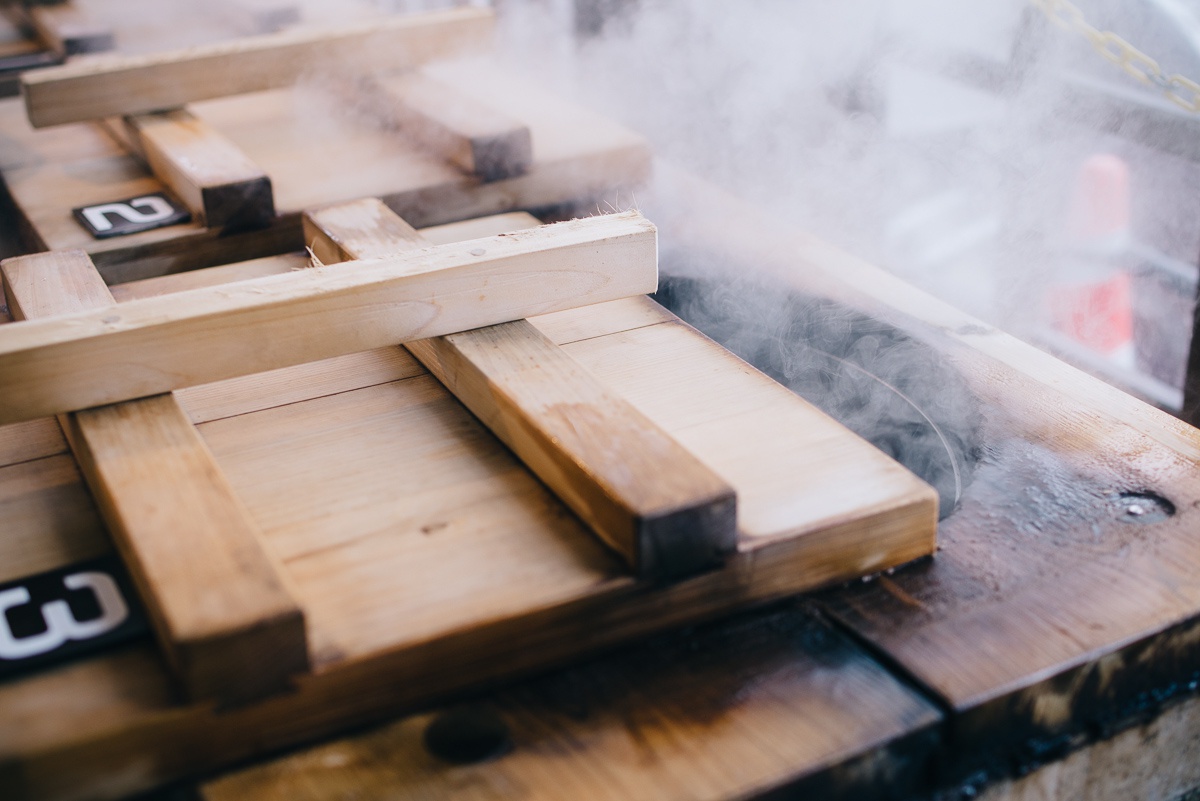 The cooking area was so steamy I could barely see even one meter in front of myself. The ladies who work here moved with grace through the cloud, showing customers how to use the steam cookers and taking orders. I asked one of them for a recommendation, and she said her favorite thing on the menu was the soft boiled egg. "Once you try it you'll understand," she said. Normally I prefer hard boiled eggs, but out of curiosity I decided to take her advice.
As instructed I put on the thick gloves provided and lifted the tremendously heavy steamer lid. From deep within I could hear a low gurgling sound, and I remember feeling like I was experiencing first-hand the powerful heat that wells up from the hot springs. With my whole face engulfed in steam, I loaded the vegetables and other ingredients into the steamer.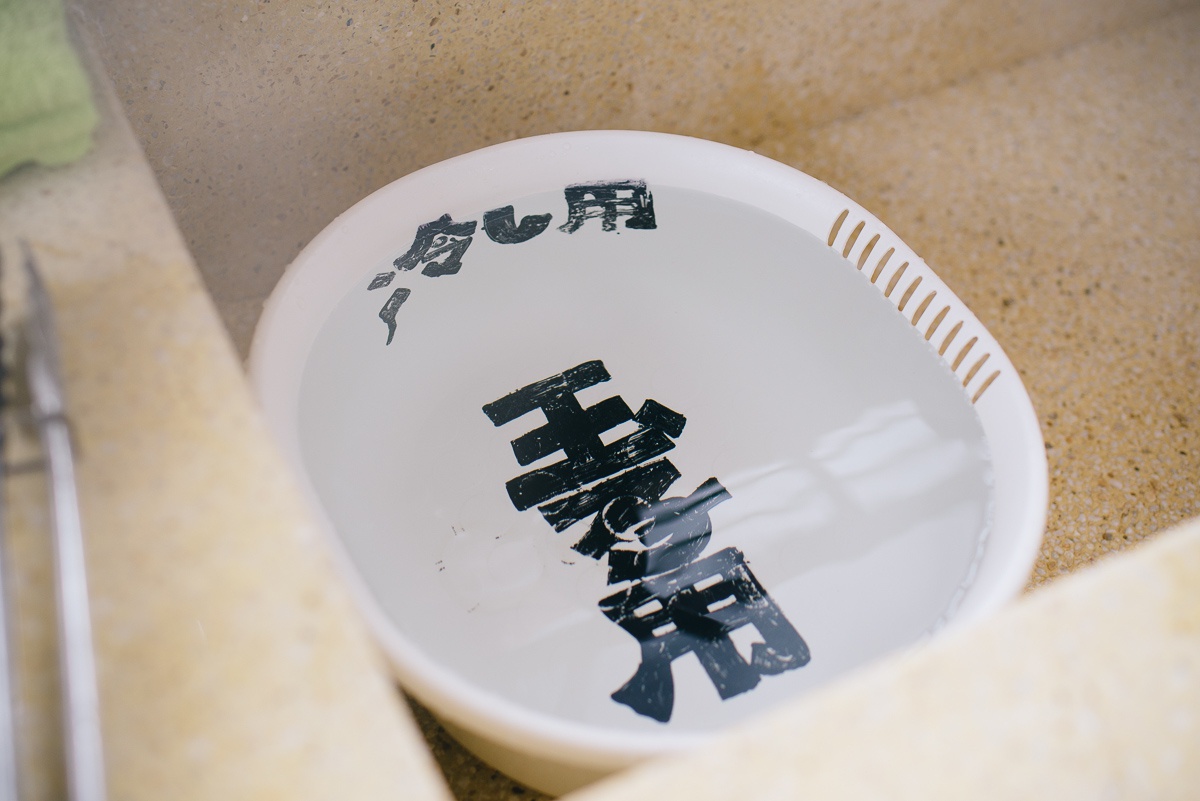 I then waited for seven minutes, watching the timer with anticipation. When it was time I removed the lid, took out just the egg, and quickly replaced the lid so that the steam wouldn't escape. I was curious to see if the steam alone had actually cooked the egg.
"You should eat it quick while it's hot," said one of the staff, so I hurried back to my seat. Peeling off the shell I could see the soft, plump egg white beneath. I took a bite and observed the vivid yellow of the perfectly cooked soft boiled egg yolk. Within seconds I understood why the staff recommended the egg with such confidence. Even without any seasoning the egg had a wonderful saltiness imparted by the steam, and the yolk, cooked just to the point before it starts to harden, has a texture unmatched. I had never experienced a taste like that before.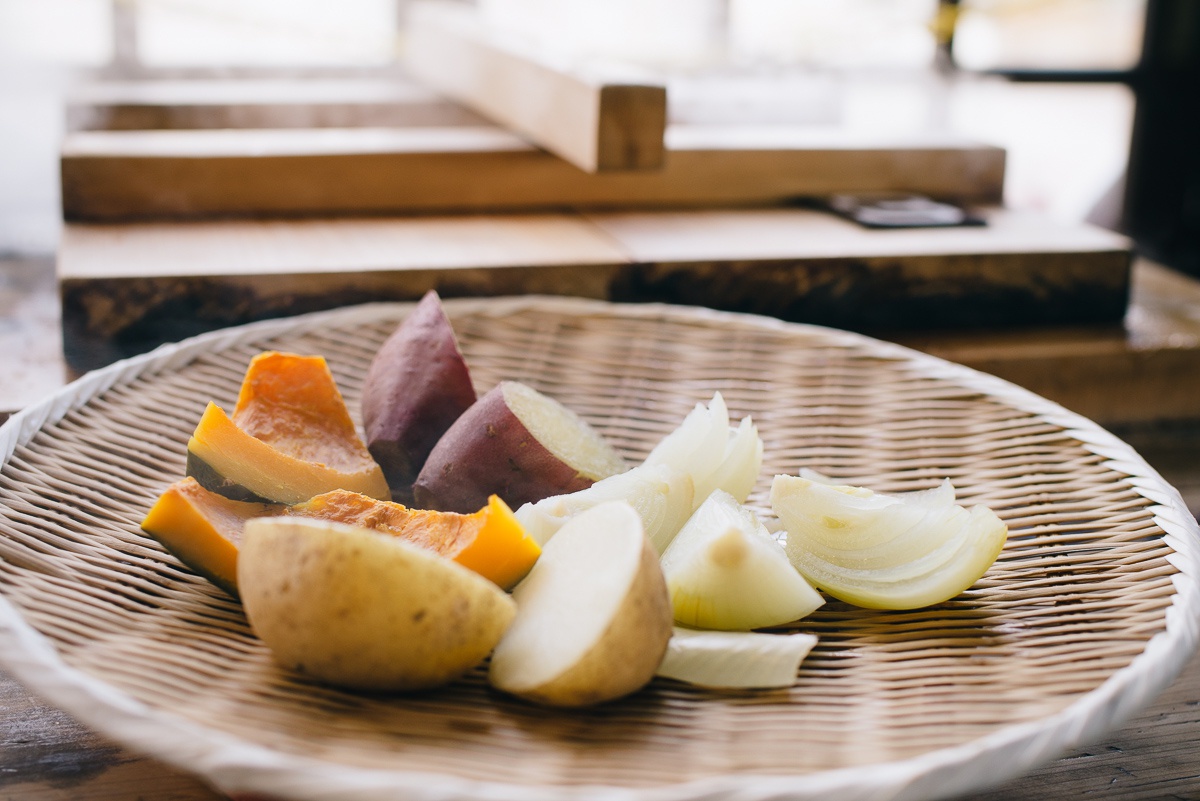 Next to finish cooking was the meat and vegetables, followed by the potatoes. I took each out of the steamer as it finished cooking and quickly ate them while they were hot. Rich, mellow onions and soft, fluffy potatoes – the sweetness of each flavor-packed vegetable was accentuated by the salt from the hot spring's steam. I like to put a little ponzu* on the onion to give it that slight kick of acidity.
*Ponzu is a citrus-based sauce commonly used in Japanese cuisine.
As it got closer to lunch hours, I took a look around and noticed there were much more people than when I arrived. A young man savoring every bite, a smiling couple in conversation, a group of students dancing excitedly before a large tray of meat – on all of their faces, nothing but pure joy.
In my daily life I don't often use or pay much attention to timers, so that was a new experience for me. I never knew how fun it could be waiting for a timer to ding until I came here.
Jigoku Mushi Kobo Kannawa
| | |
| --- | --- |
| address | 〒874-0044 Furomoto 5-kumi, Beppu-shi (along Ideyu-zaka slope) |
| hours | 10:00-19:00 |
| closed on | The third Wednesday every month (the following day if it is a national holiday) |
| tel | 0977-66-3775 |
| parking | 26 spaces |
| recommended for | Vegetable & Potato Set 600 yen (tax incl.), Jigoku Mushi usage fee (up to 30 min.) 510 yen |