"SELECT BEPPU is one room inside this 110 year old nagaya. The house was empty for a long time, but now the first floor is being used as a boutique shop and the second floor as a gallery space to display sliding screen doors created by artists," explained Toshimitsu-san of BEPPU PROJECT, the NPO that manages this shop, SELECT BEPPU.
SELECT BEPPU was created about ten years ago as one part of a project aiming to revitalize the center of Beppu by renovating old, empty buildings and turning them into galleries, studios, and other facilities that promote cultural activity. When I asked about the meaning of the words written on the noren in front of the shop, Toshimitsu-san told me that the founders, who likened the city of Beppu itself to a living museum, thought that every museum needs a shop where the information and products that represent it can be gathered.
The interior of the shop is filled with various products, surrounded by white walls which contrast with the exposed wooden structure of the house. Delicate bamboo bags, one-flower vases inspired by the aesthetic of steam, tenugui* stencil-dyed with a birds-eye-view of Beppu – each item displayed here is in some way Beppu-themed. The shop's selection features mainly handmade items and crafts. I took each one in my hands and examined it carefully.
*A tenugui is a thin Japanese hand towel made from cotton.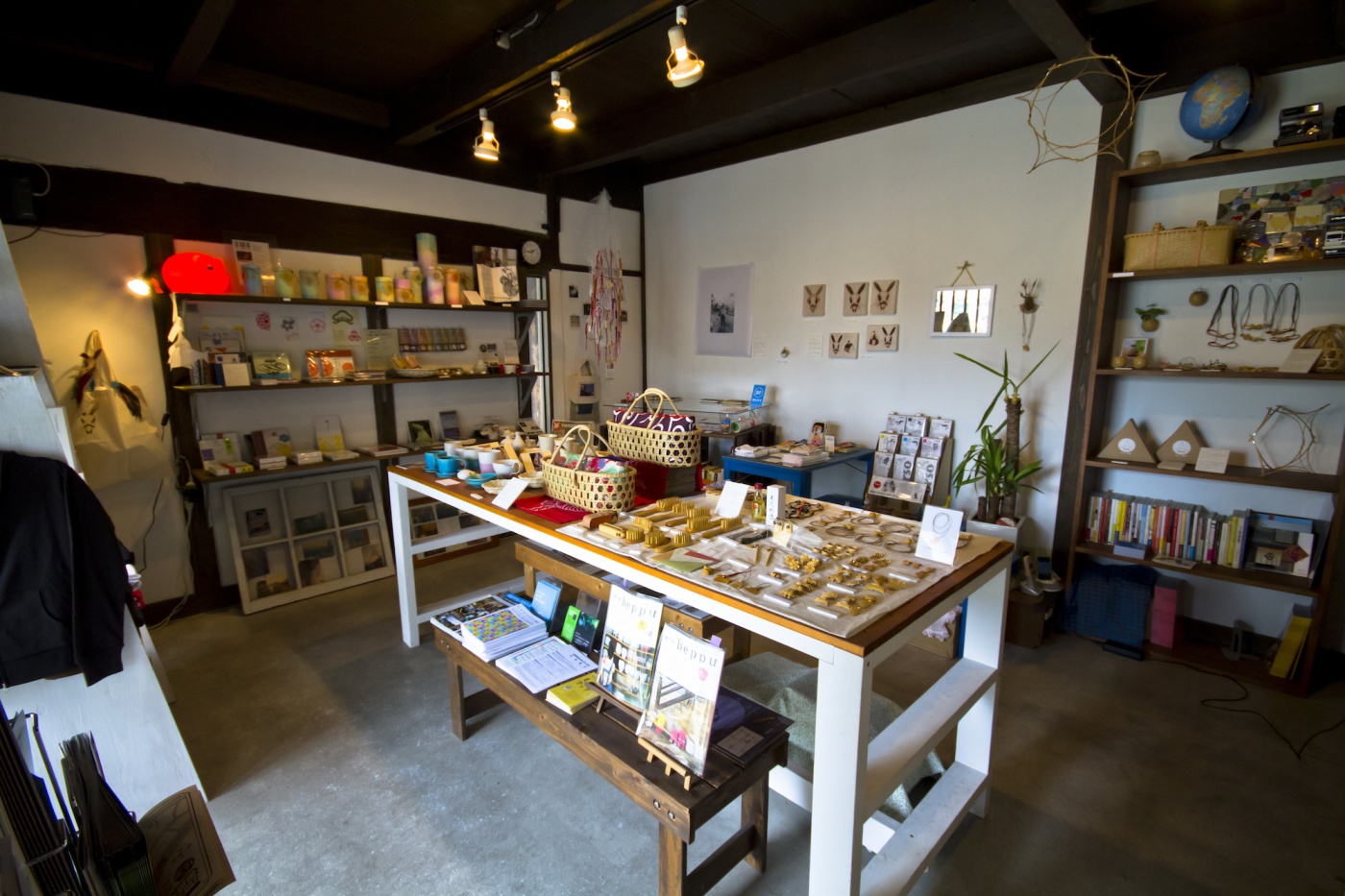 To reach the second floor I climbed the narrow, steep staircase, common in old Japanese houses such as this. At the landing I found two tatami* rooms. As I passed though the sliding doors I turned back to close them and was surprised to see a bright, pink flower painted on the other side. This painting was inspired by the traditional textiles of Taiwan. I sat on one of the floor cushions placed inside the room, and as I gazed at the painting on the sliding door, I began to feel more and more relaxed. Old Japanese houses are traditionally composed with a conservative, desaturated palette of browns, whites, and blacks, so I was surprised to find how well this exotic flower painting managed to not feel out of place. Soft light poured through the glass of the windows and filled the room with a quiet tranquility.
*A tatami is a type of mat used as a flooring material in traditional Japanese-style rooms.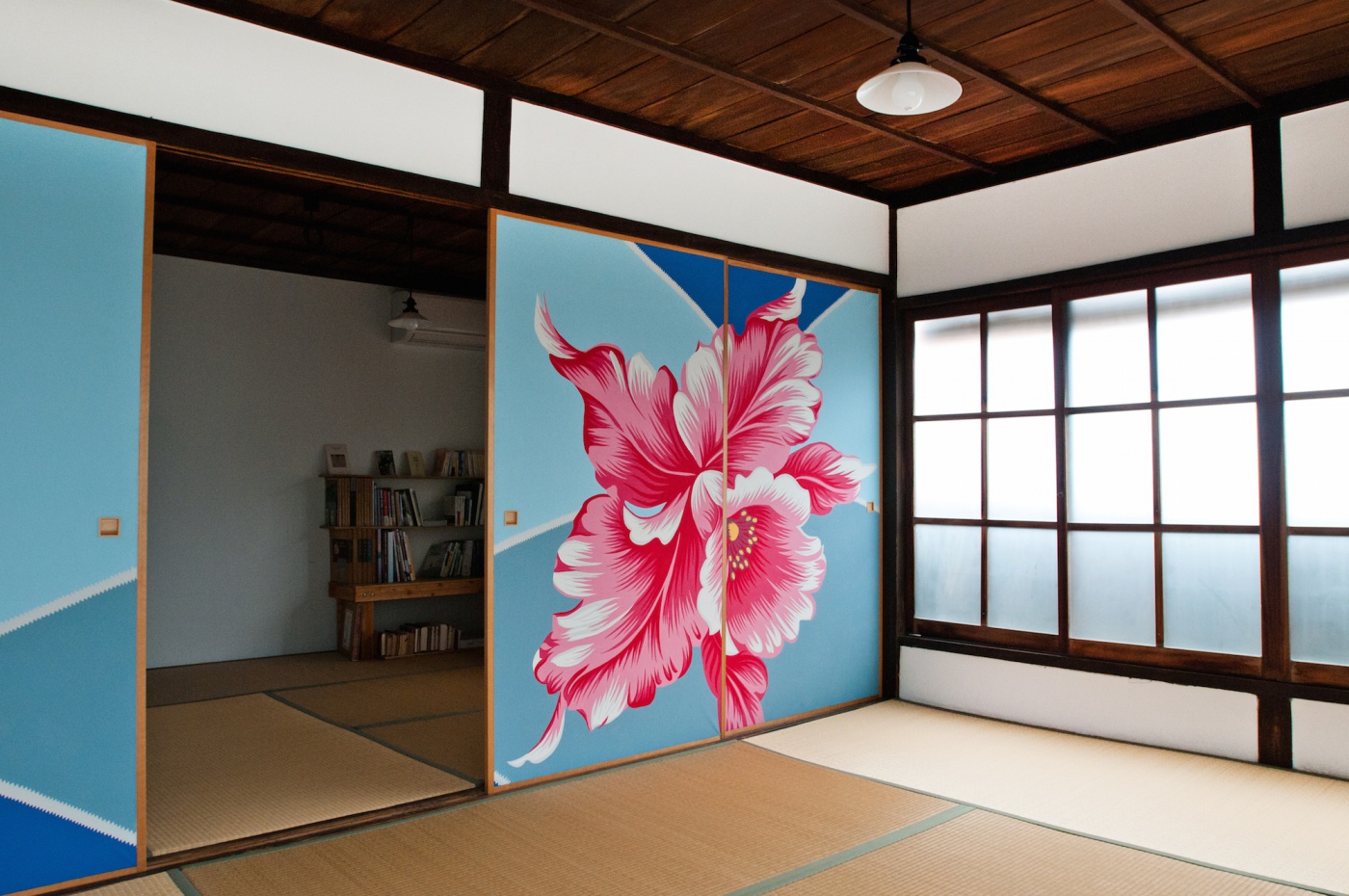 "Many of our customers are travelers who come inside to ask for restaurant or onsen* recommendations. We also get customers from the nearby beauty salons who come here to kill time while waiting for their appointments. I consider this a place where three elements: creators, customers, and the city intersect. I hope that the people who visit here will find interest in Beppu, and feel inspired to see the rest of the city," said Toshimitsu-san.  
*An onsen is a public hot spring.
At that moment someone slid open the door enthusiastically and called out "konnichiwa*!". The voice was that of a regular customer, an older gentleman. I was able to see first-hand how the staff of this shop welcome all, not just locals or tourists. Surely this shop will continue to exist as a place where people from all walks of life can continue intersecting for years to come.
*Konnichiwa is a Japanese greeting, typically a mid-day to early evening greeting which is also used as an informal "hello".
SELECT BEPPU
| | |
| --- | --- |
| address | 9-34 Chuo-machi, Beppu-shi |
| hours | 11:00-18:00 |
| closed on | Tuesdays |
| tel | 0977-80-7226 |
| parking | N/A |