On the women's side of the baths is a painting of Mount Tsurumi – on the men's side, Mount Yufu. Mount Tsurumi is known as a gentle, feminine mountain, while Mount Yufu is seen as rugged and masculine. At first it may seem that they should be switched, but the artist assures that this is intentional, and is meant to convey the feeling of consideration of the existence of the other sex. Sinking into the bath I looked up in wonder at the faint, pastel colors of the mountain, and felt relaxation spread throughout the muscles of my body.
From the onsen I continued my walk as my slightly wet hair dried in the wind. From Suehiro Onsen I backtracked along Nakahama Dori, passed between Kiyoshima Apartment and a Catholic Church, and turned left at an old home for children. Looking through the glass door of an old miso* shop, I could see straight through to Akiba Dori. On the other side of the pedestrian crossing was Akiba Shrine, which pays tribute to Inari*. This shrine is said to protect the surrounding area from harm due to fire. After paying my respects at the shrine, I walked down Nagarekawa Dori until I reached a two-story building locals call Akiba Salon. Looking up at the building I found painted on it's exterior a work of art by artist HITOTZUKI titled "Evidence Clouds".
*Miso is a traditional Japanese seasoning produced by fermenting soybeans with salt and koji.
*Inari is the Japanese god of foxes, of fertility, rice, tea and sake, of agriculture and industry, and of general prosperity and worldly success.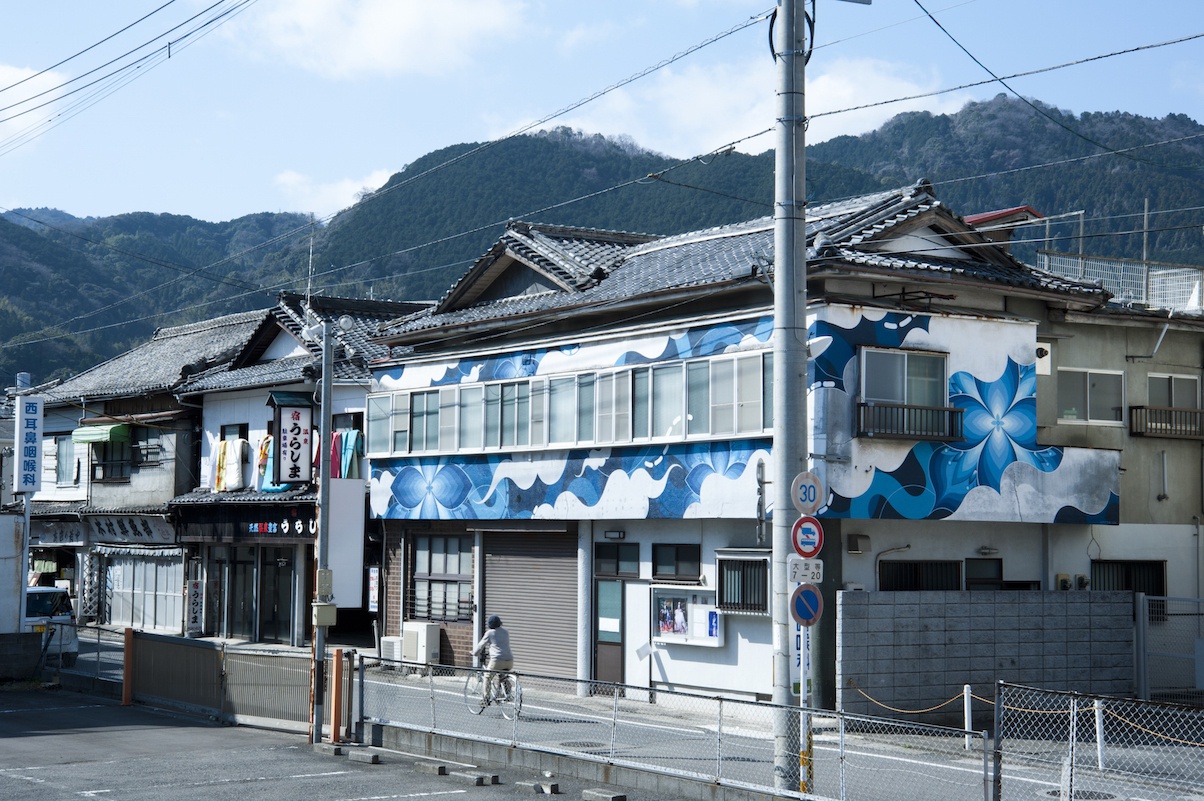 This beautiful mural is composed of blossoming flowers and swaths of what could be water, steam, or clouds painted in vivid shades of blue and white. The painting is refreshing to look at, and has a sense of motion.
From there I descended the gentle slope of Nagarekawa Dori and continued in the direction of Takegawara Onsen. Just around the corner from the onsen I found Hatoba Shrine. This historic shrine was built in 1872 to protect boats at sea set sail from this once fishing town. Continuing north, painted on one of the long, white walls of Hotel New Tsuruta is a mural titled "Scene" by Yasuhide Kunimoto. Against the white wall are hundreds of human silhouettes painted in a faint gray. Their movement, captured in time, seems to suggest that they are gathering, or going somewhere together.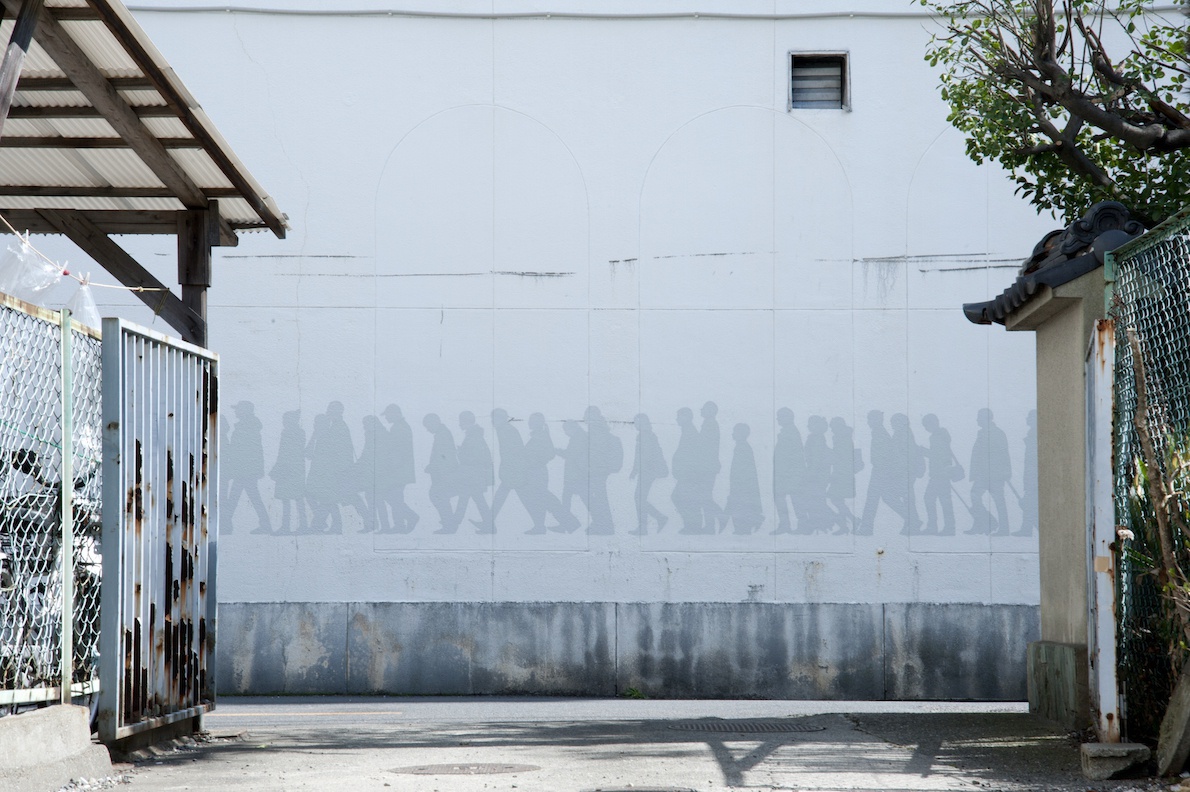 Continuing out onto Ekimae Dori, I came upon a noticeably tall, lemon yellow building. It was the locally loved 100 yen store, Tokiwa Beppu. Entering from the side entrance I took the elevator to the roof and found a work of art by Yusuke Asai titled "Umi to yama no aida de ikiteiru", which translates to "Living between the ocean and the mountains".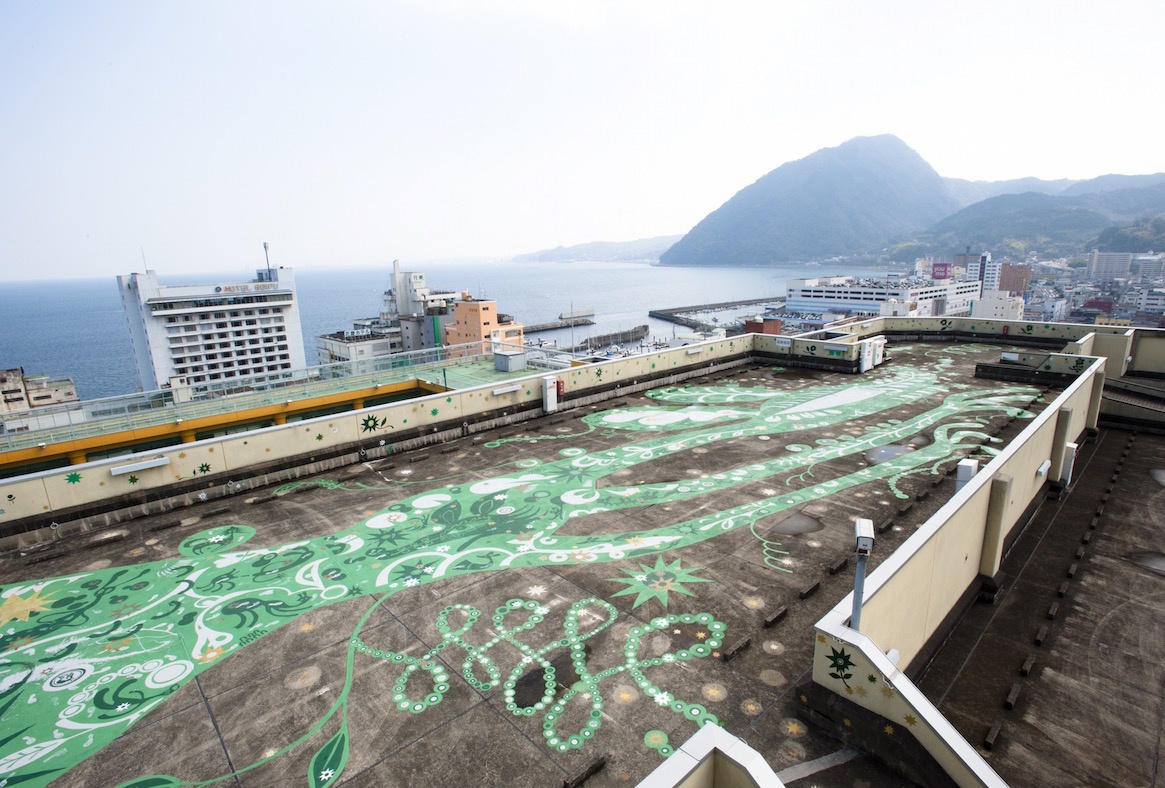 Covering the entire roof top, the painting resembles some kind of living creature, but it's simply too large to see what it is. Parts are visible – ears, eyes, limbs, a tail – I walked around the rooftop in circles trying to trace the shapes. I noticed the many stars painted on the walls surrounding the rooftop. Lifting my gaze slightly I could see the observation platform of Beppu Tower. Turning in the opposite direction I could see Takasaki Mountain and Beppu Harbor. Looking even further I could see Beppu Rakutenchi and the steam rising from Kannawa Onsen. The whole of Beppu can be seen in one view from up here. The city that I've been walking around in, Beppu, is tucked between the mountains and the ocean, almost like it's being embraced. This was a new perspective that I had never seen this city from before.
Wall murals that seem to meld seamlessly with this city – from what I've heard there are many more to see. I look forward to finding them.
Hekiga Project
| | |
| --- | --- |
| address | various locations in Beppu-shi (Hirosue Onsen, Akiba Salon, Hotel New Tsuruta, Tokiwa Beppu) |
| hours | varies from place to place |
| closed on | varies from place to place |
| tel | 0988-21-3560 (NPO BEPPU PROJECT) |
| parking | varies from place to place |