The road leading from the station had a sort of nostalgia that exuded the energy of everyday life in Beppu. Following a path that runs parallel to the train tracks, I found an old water well. The well was equipped with a tin bucket, and actually seemed like it could still be functioning. Next to the well was a shrine where a cat was lounging.
I turned onto a narrow back street and followed it to a small sign that said Hamawaki-no-Nagaya. This was where I would be staying the night.
At the end of a U-shaped entryway I found two doors, one marked "White Box", and the other "Sky Garden". I had reserved the former of the two, so I entered the code into a lockbox keypad and received the key. Using it, I opened the old wooden door and was immediately struck by what I saw.
Before me was a tapestry of bright blue light. Just as the name "Sky Garden" implies, it looked like a sky full of countless, twinkling stars spread out beneath me. I couldn't believe that a space as impressive as this was separated from the rest of the world by just one door.
Surrounding the sky of blue lights were several floor cushions where I sat and appreciated this work of art for a moment. I had heard that among the countless glass marbles, there is one made of crystal. The light refracts through them all in the same way though, so I wasn't able to tell them apart.
I went up the stairs and found that the floor was made of glass and overlooked the blue lights. This, apparently, is where guests are meant to lay their futons and sleep. I wondered what sort of dreams the blue light shining on my back would bring.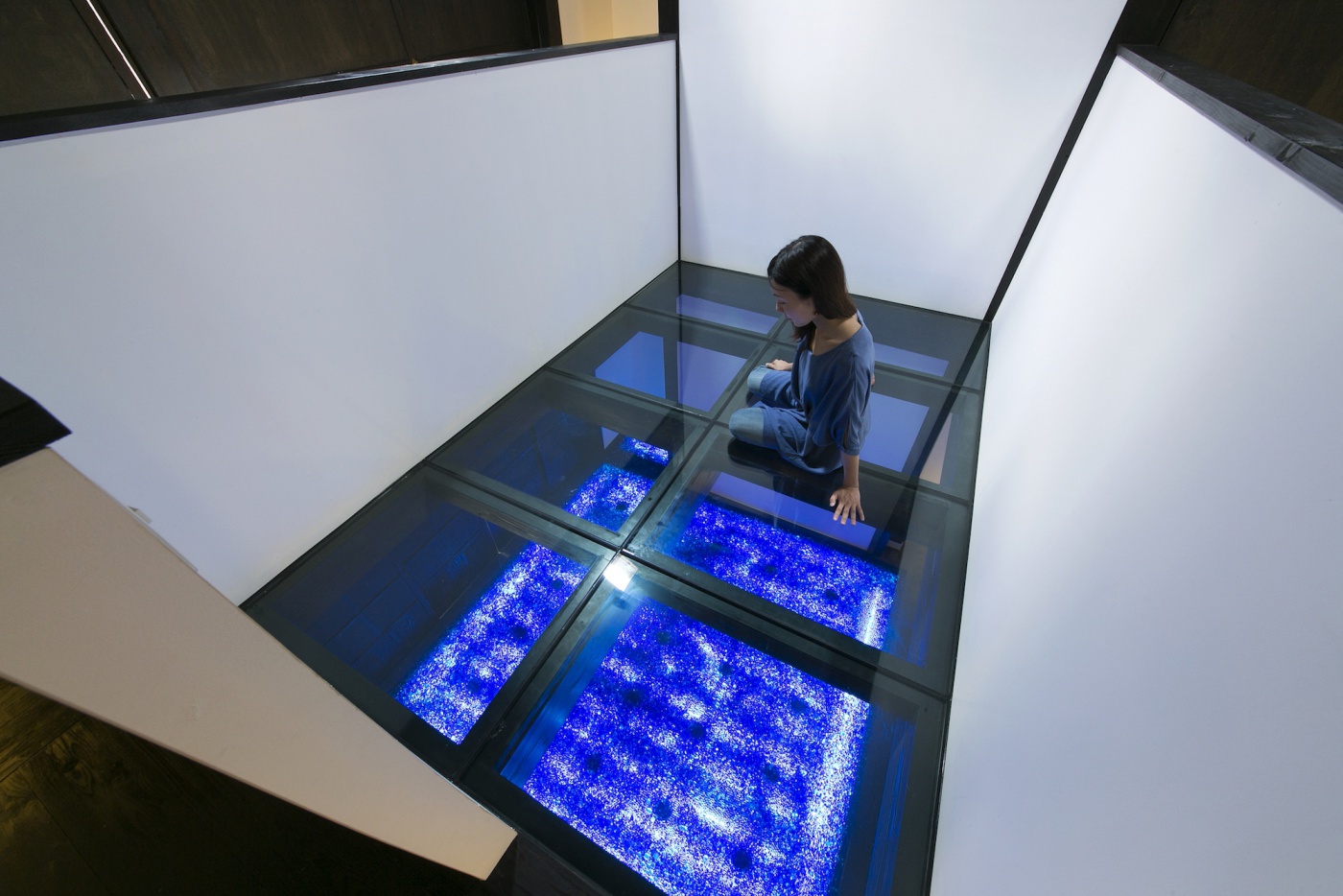 On the other side of "Sky Garden" is a communal space which is shared with the guest staying at "White Box". Here there is a simple kitchen with everything needed to make tea.
I was drinking a cup of tea and looking out at the Japanese garden from a low window when suddenly a door opened and a woman entered. She was the guest staying in "White Box". "To have the chance to sleep inside a work of art is a rare thing," she said of the reason why she chose this of all the places to stay. She was sightseeing in Beppu, taking a few days off of work. "Would you like to see what the other room likes like?" she asked, and we each showed each other our rooms.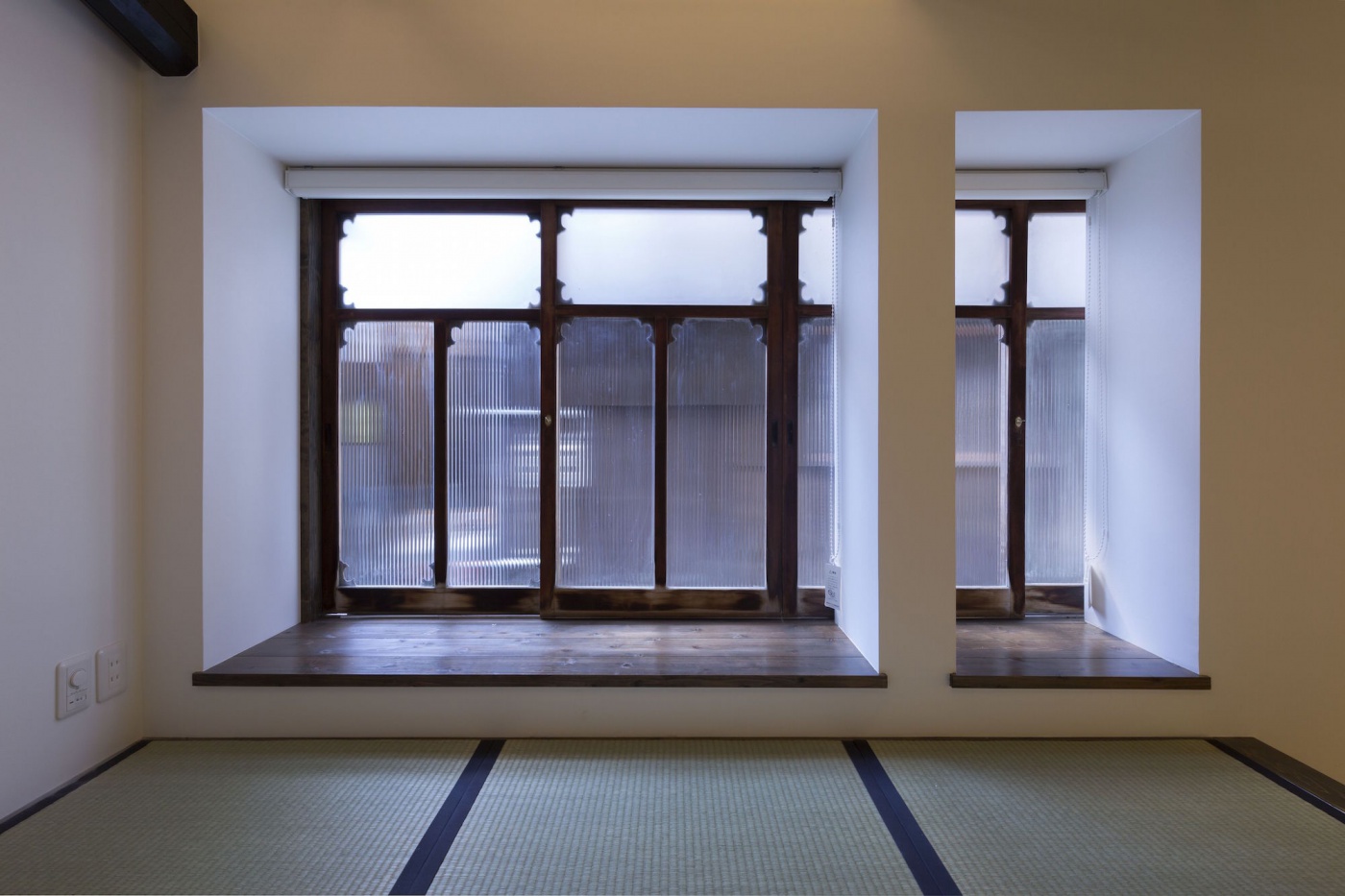 "White Box", as you might expect was completely white. At the end of a narrow hallway was a square, white room where several ink paintings were displayed. She said that the paintings were made using the soot from a candle. Looking closer I noticed that there were small words written into the painting. "I heard that those are the words that the artist's wet nurse often spoke," she said. I didn't know what the words in the painting meant, but I got the sense that a quiet, deep expression of love was present in this work.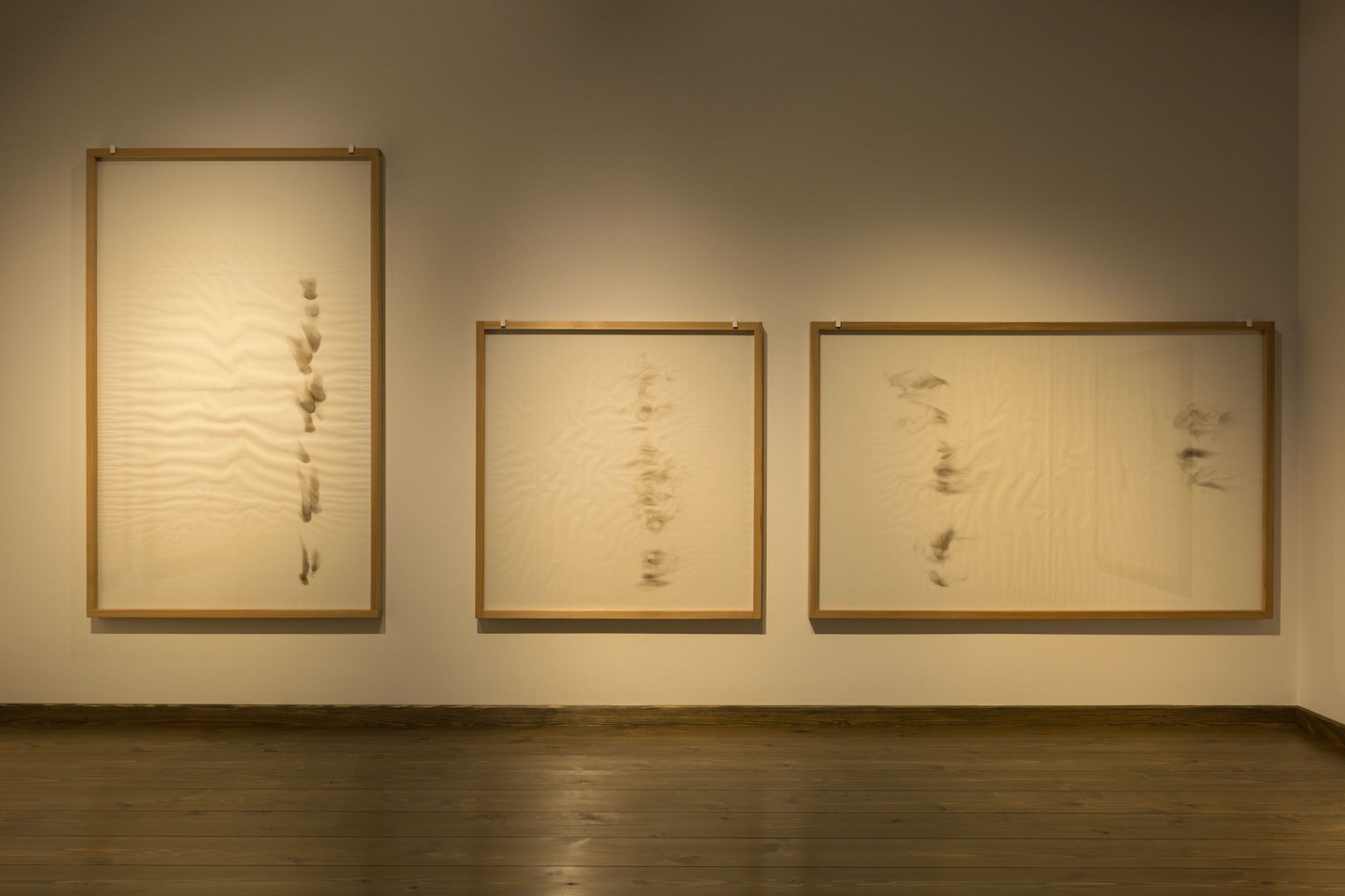 Neither of the rooms have a bath, so guests are advised to go to one of the local onsens. Among the room's amenities was a wash bowl with soap which I took under my arm as I headed outside. Night had fallen and the street was very dark. Every person I passed by was walking with a wash bowl in one hand. It may seem a bit inconvenient, but walking from home to the onsen like this everyday is part of life in this city.
I heard that there were several onsens in the neighborhood, but I decided to go to Higashimachi Onsen next to Higashi-Beppu Station because I had learned that there was a work of art inside. On the two-story concrete building was a sign that charmingly said "A quick bath before the train comes". I paid the bath fee at the attendants booth, which looked like it had gone unchanged for ages, and stepped through the noren*.
*A noren is a traditional Japanese fabric divider commonly hung between rooms or in doorways.
I descended the stairs and found a pill-shaped bath tub surrounded by a cute, pastel colored wall painting. The colorful stacks of wash bowls and plastic seats seemed to be a part of the art work. Paintings of flowers and cats appeared in the most unexpected places, like above the lockers in the dressing room. Each time I found one I couldn't help but smile.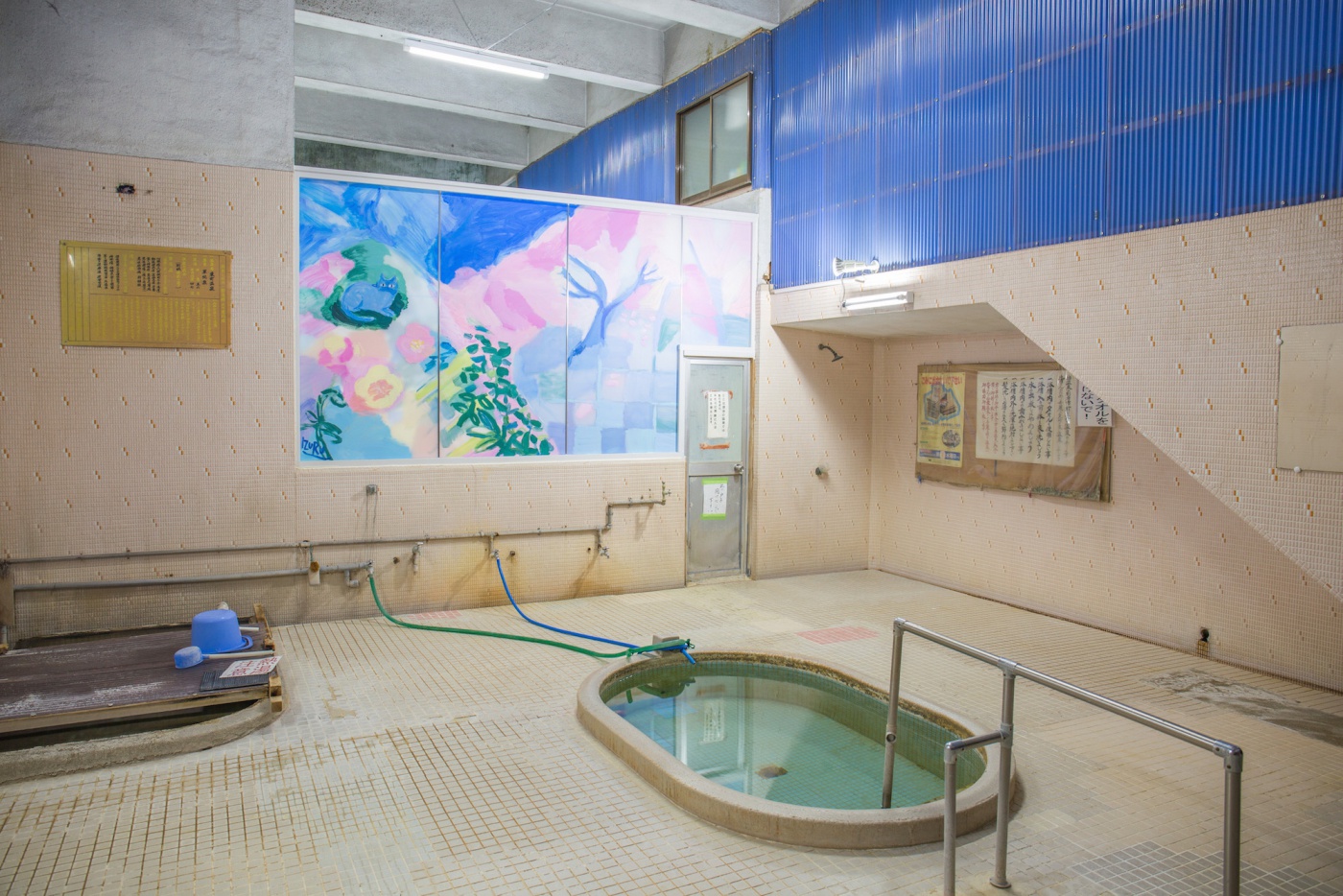 The bath water was quite hot, so I slowly sank my body in up to my back. I stretched my tired legs, and almost immediately I could feel the exhaustion from travel fade away. My night of art had only just begun. What sort of evening did I have in store back in my room filled with blue light, and what sort of world would greet me in the morning?
Hamawaki-no-Nagaya
| | |
| --- | --- |
| address | 1-357-3 Hamawaki-chiku, Beppu-shi |
| tel | 0977-22-3560 |
| parking | N/A |