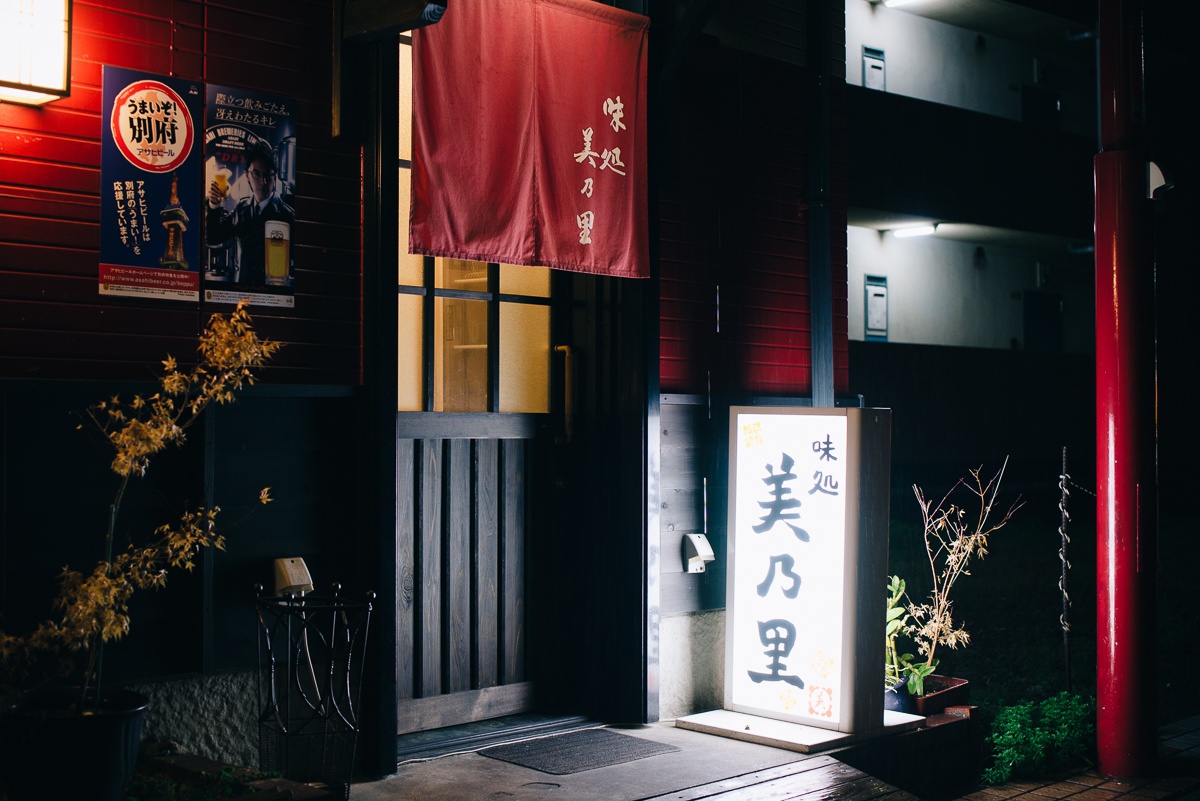 "I know a good little restaurant," said a friend of mine, kindly introducing me to Ajidocoro Minori, located at the end of the Ginten-gai shopping arcade. "It gets pretty busy so you should go just after they open." I'm glad I followed her advice because there were already two customers when I got there right at opening time.
"Come on in!" said a friendly young woman from behind the counter. Lined up along the top of the counter was a delicious looking obanzai* spread.
*Obanzai is a traditional style of Japanese cuisine native to Kyoto.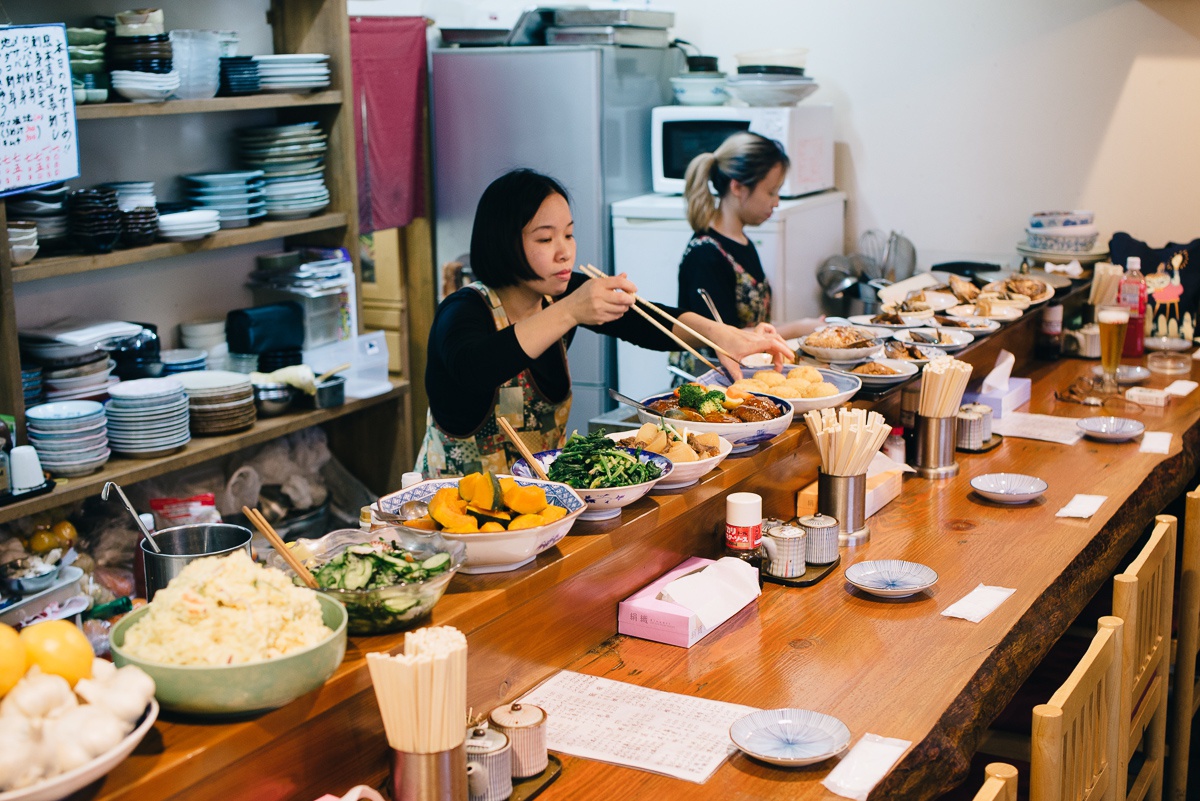 After looking over the menu and daily specials, listening to what other customers were ordering, and struggling to make a decision, I finally ordered several dishes. While I was waiting for the food to come out, I watched as one by one customers arrived until before I knew it the entire place was packed full.
Looking at the items on the counter, I was amazed by how many dishes there were. Boiled sea bream and mackerel, hamburger steaks and croquettes, stewed beef sinew and vinegar-dressed cucumbers, potato salad and what appeared to be a big jar of homemade pickled plums. "We always prepare a large spread like this before we open," said the owner Yuri-san.
"Thanks for waiting," said the woman behind the counter as she served a dish of potato salad taken from the giant bowl sitting on the counter. A customer seated next to me, who appeared to be a regular, said, "The potato salad here is delicious." Restaurants that have counter seating like this one tend to make it easier for strangers to engage in casual conversation.
He then told me that he comes to this restaurant about twice a week. We had an interesting conversation, but at the end he said, "To be honest, I don't want too many people to find out about this place. If it gets too popular I won't be able to get a seat anymore." I get it – when you find a restaurant as good as this one, where you want to keep going over and over, I understand wanting to keep it secret. I got the feeling that there were many regulars here that felt the same.
Two customers seated at the counter to my other side started up a conversation with me. "I work nearby here, and I always see a lot of people coming and going from this restaurant. I had always been interested to check it out, and finally here I am." Though it was only their first time, they were chatting with Yuri-san, drinking and having a great time. Even when it gets really busy, Yuri-san never stops smiling as her hands flutter about preparing the food.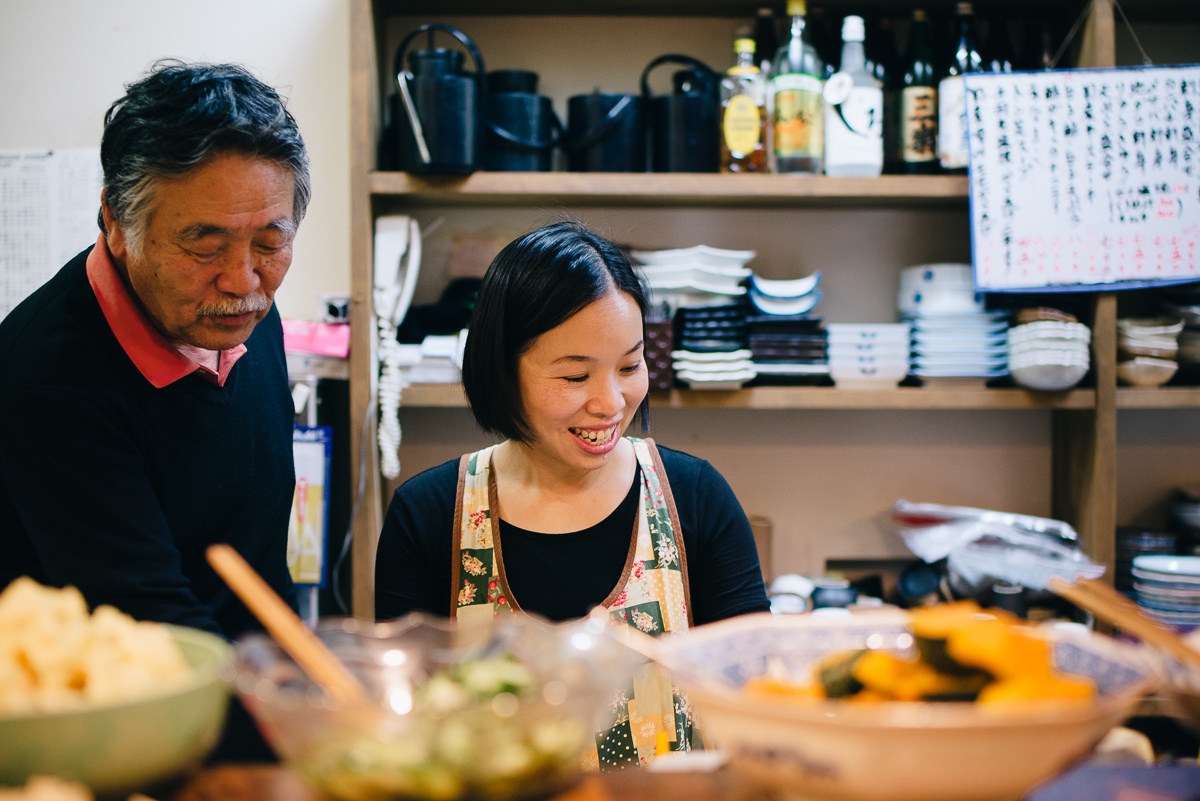 Yuri-san was born in Vietnam, and she came to Beppu as a student. When she was in school she worked a part time job at a small restaurant similar to this one called Ureshiya. Many of the dishes that she learned working there are carried on here, and even the former owners of Ureshiya have become regular customers at Ajidocoro Minori. Yuri-san's husband was a regular at Ureshiya. "This guy has an extraordinary culinary sense," said Yuri-san in a low voice, speaking of her husband. Ureshiya was once a very popular and much loved local establishment, but shortly after Yuri-san quit in order to give birth to and care for her child, the restaurant sadly closed. After some time had passed Yuri-san and her husband decided to open this restaurant together. Now Yuri-san's husband, with his experienced palette, works in the kitchen assisting his wife. Before they opened the restaurant he was an office worker, but now watching him cook is like watching a craftsman at work.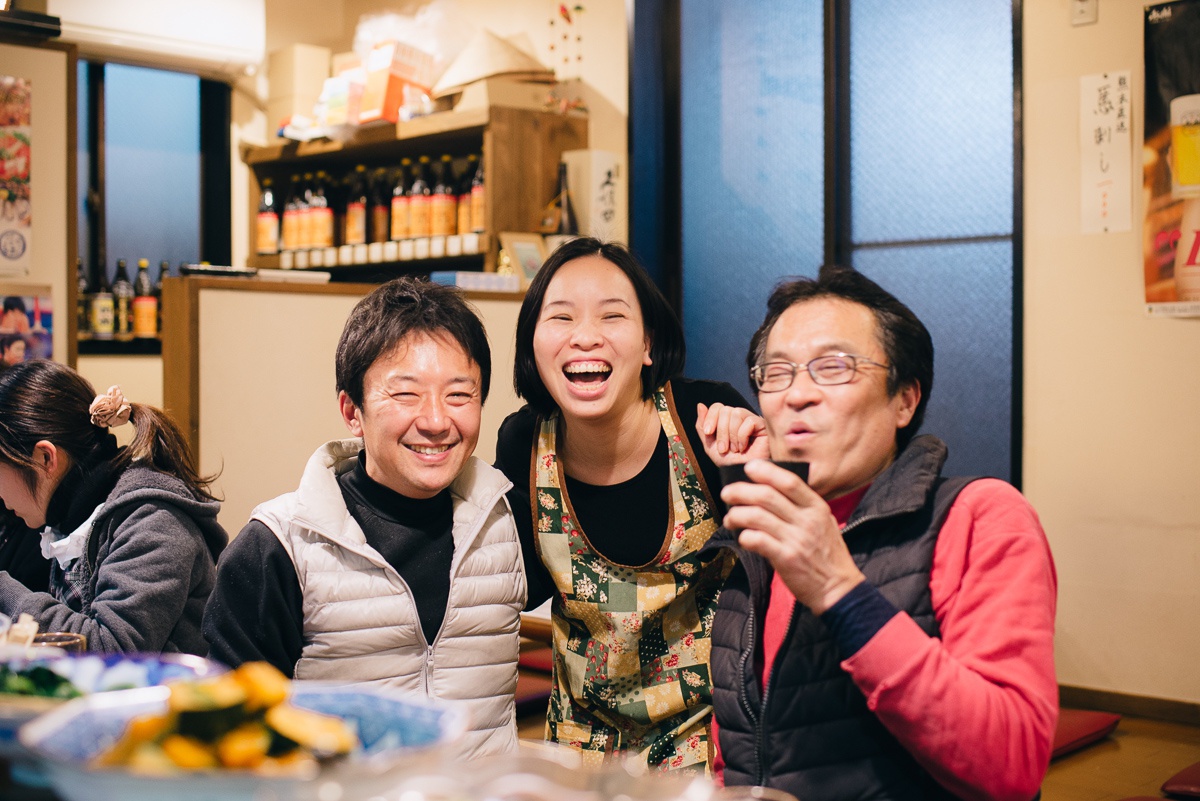 One of the most enjoyable things about sitting at the counter is getting to hear the dialogue between Yuri-san and her husband.
Glancing over at the table seating area, I could see that every single person there was relaxed and having a great time drinking and eating with friends. When Yuri-san brings the food over from the kitchen, a cheer of laughter and joy arises from the table. I could see that the customers here feel just as comfortable at this restaurant as they do in their own homes.
Yuri-san's husband poured me a glass of his recommended sake, and I was ready to join in the laughter.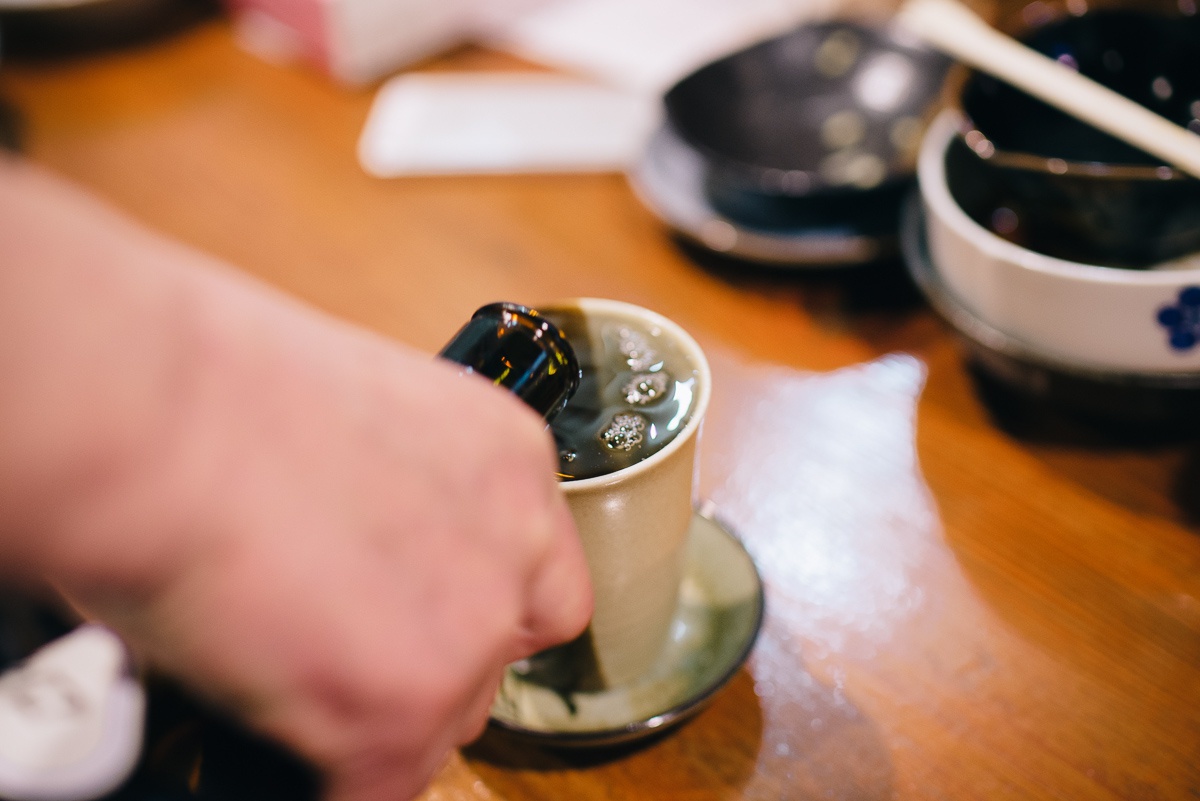 Ajidocoro Minori
| | |
| --- | --- |
| address | 5-4 Motomachi, Beppu-shi |
| hours | 17:30-0:00 (last order 23:30) |
| closed on | Mondays |
| tel | 0977-25-0235 |
| parking | N/A |
| recommended for | Potato salad 300 yen, Shima-pepper dumplings 400 yen, Abekawa-mochi 350 yen |