The owner, Takabe-san's parents run a jazz cafe in Kanawa. She says that, while she didn't learn any particular knowledge about running a cafe from them, growing up living above a cafe has made coffee a part of her daily life. As a middle school student she decided that she wanted to own her own cafe someday. Approaching her 40s, she decided that it was time, and opened this coffee shop. The cafe opens at 8 AM, welcoming a range of customers from office workers on their way to the office, to tourists and locals from the surrounding neighborhood.
Written on the blackboard menu are the names of the countries from which the coffee beans are sourced: Indonesia, Guatemala, Mexico, and Brazil. I was clearly having trouble deciding, so Takabe-san politely explained the sweetness, acidity, and other various characteristics of each coffee to me. She said she sources a range of different varieties of coffee beans in order to match the taste preferences of just about any customer who comes through the door.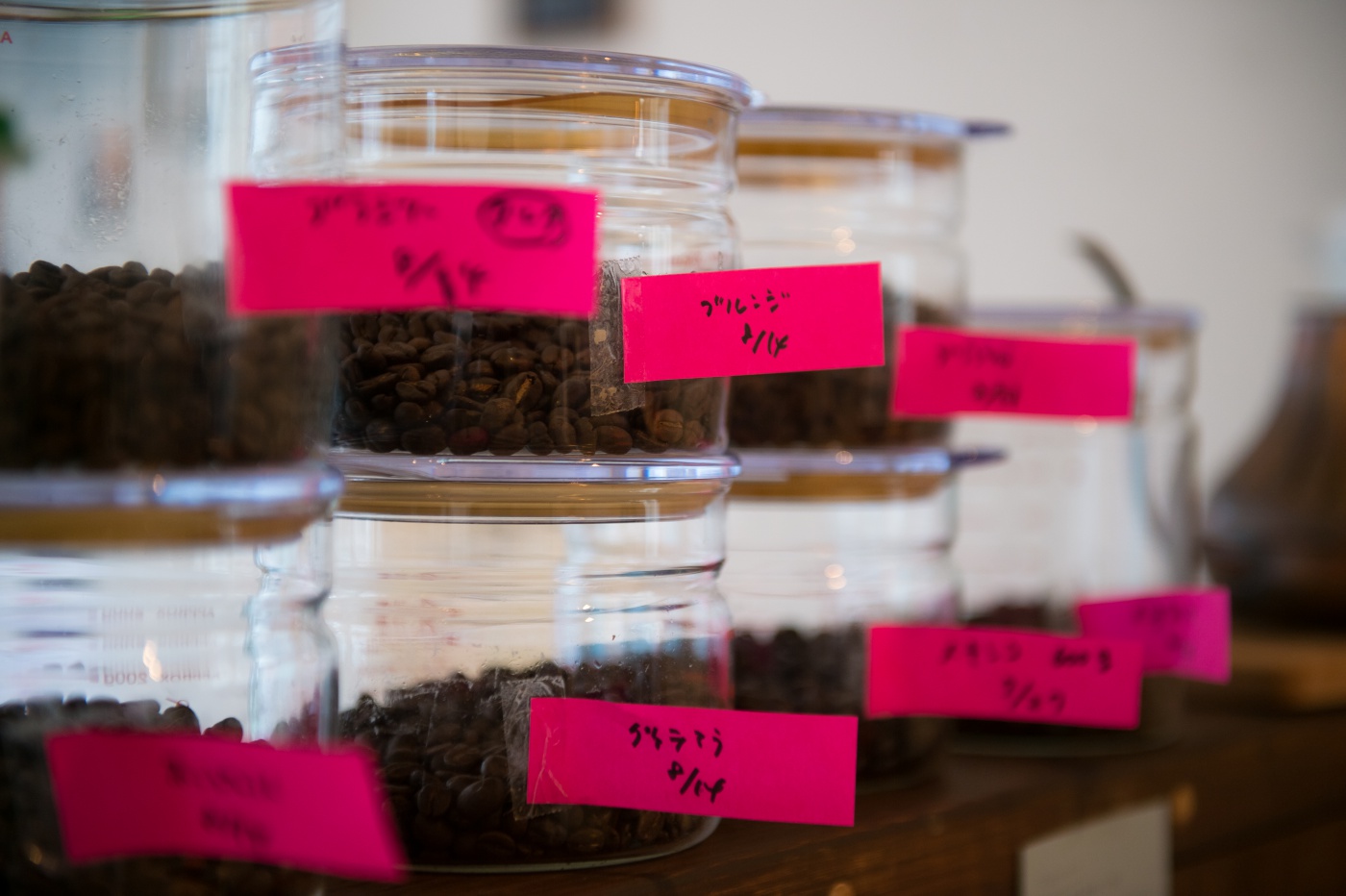 This building was once a flower shop, and before that a clothing shop. Through the shop's windows are timeless sights – corrugated metal walls with yellowing pieces of tape, old ladies walking home from the bath house. "Beppu is a patchwork of old things and new things that tell the passage of generations. I think that sort of unconscious, accidental scenery is what makes this city interesting."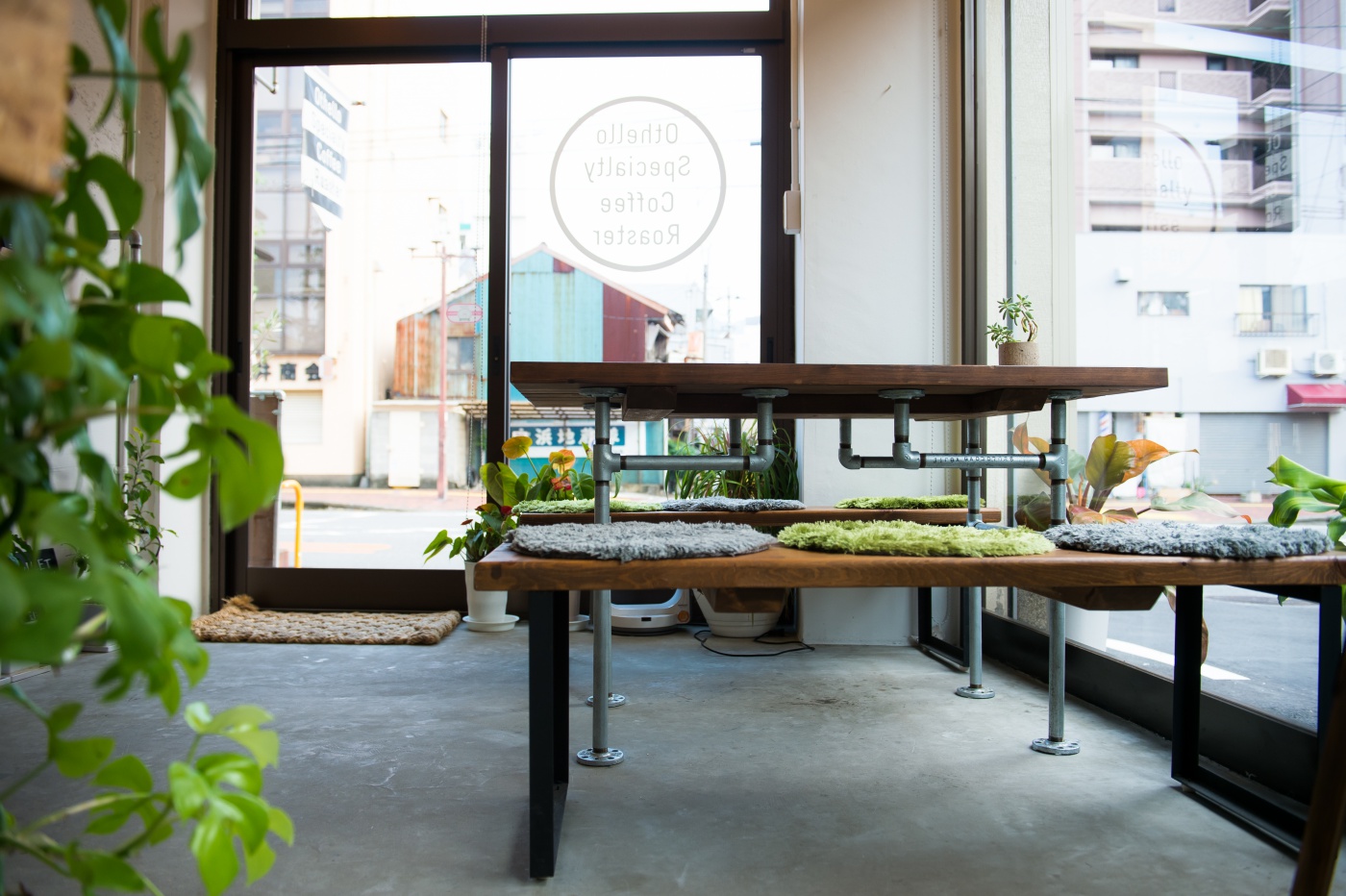 Compared to coffee I've had at other cafes, this cup of delicately brewed coffee was richer in flavor, and had a dense palette feel. Looking around the cafe, I saw a young man slowly enjoying his cup of coffee and two women sitting and having a conversation. Every person that comes here has his or her own story, but something about the fact that they are all here simply to drink coffee felt special to me.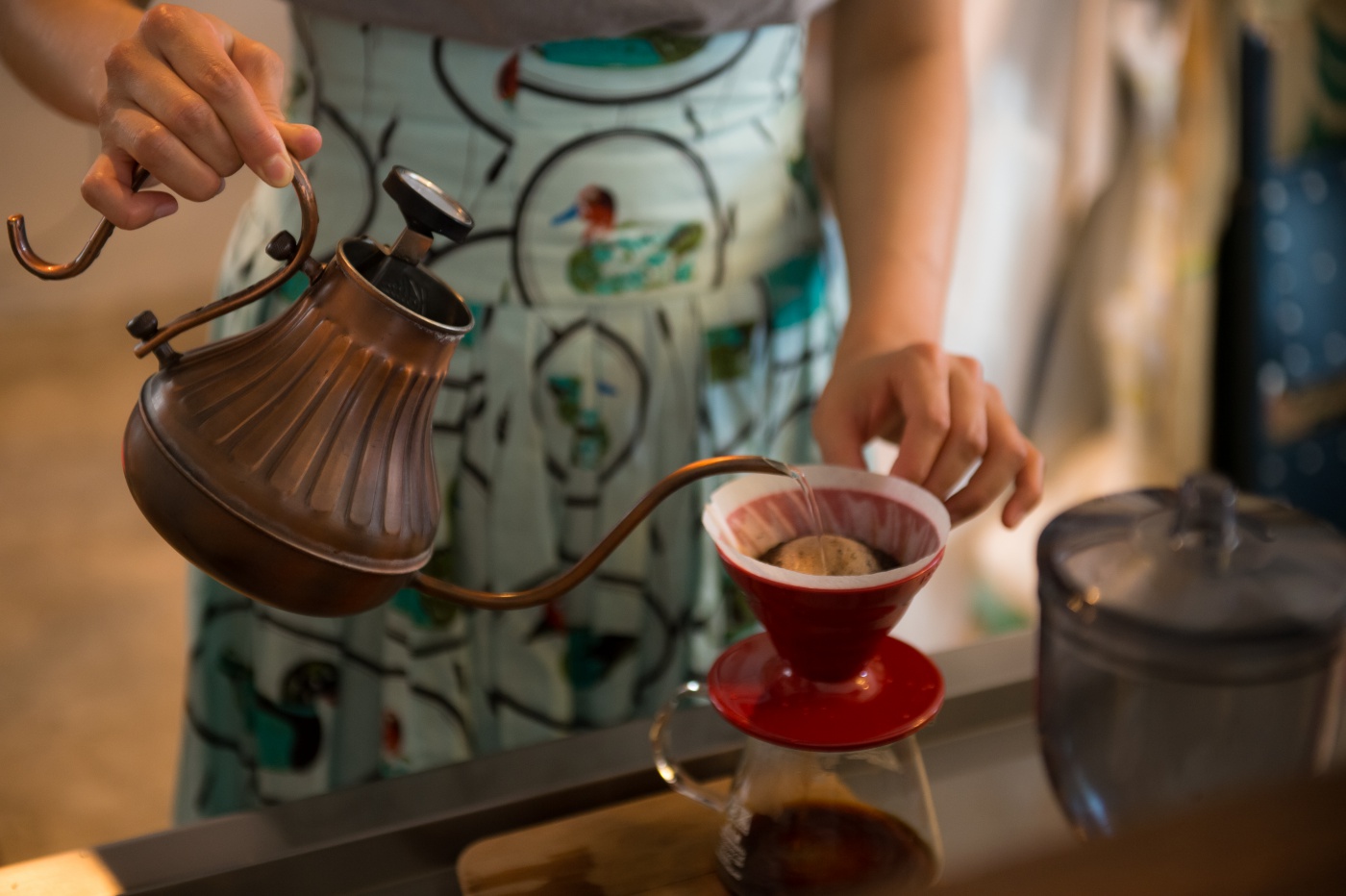 コーヒーは人の心を解きほぐし、普段は決して口にすることのない、その人の内面を引き出してしまうこともある。以前この店を訪れた1人のおじいちゃんが、高部さんにこんな話をしたという。「妻が亡くなったことを今でも受け入れられなくてね。ときどき近所のデパートに行って、家内を呼び出してもらうんですよ。そうしたら帰ってくるんじゃないかって思って」コーヒーと同じで、焦って淹れたら苦みや酸味が出てしまうけれど、時間をかければ、蒸れた豆のように想いは膨らみ、深みが増す。時間がゆっくりと流れる心地よい空間で、この1杯が自然と導く人間模様があるようだ。
Coffee has a way of softening the heart, and making it easier to express things that seemed difficult to say before. I learned from Takabe-san that an older gentleman who came to her cafe once told her a memorable story. "He told me that he still wasn't able to accept the passing of his wife. Sometimes he would go to the local department store and have them call out her name over the intercom. He said he thought maybe she would come home if they called for her." If you brew coffee in a hurry it will taste bitter and acidic, but if you take time you can bring out a depth just like that of the old man's story. In this peaceful space, a cup of coffee has a way of naturally guiding the hearts of people.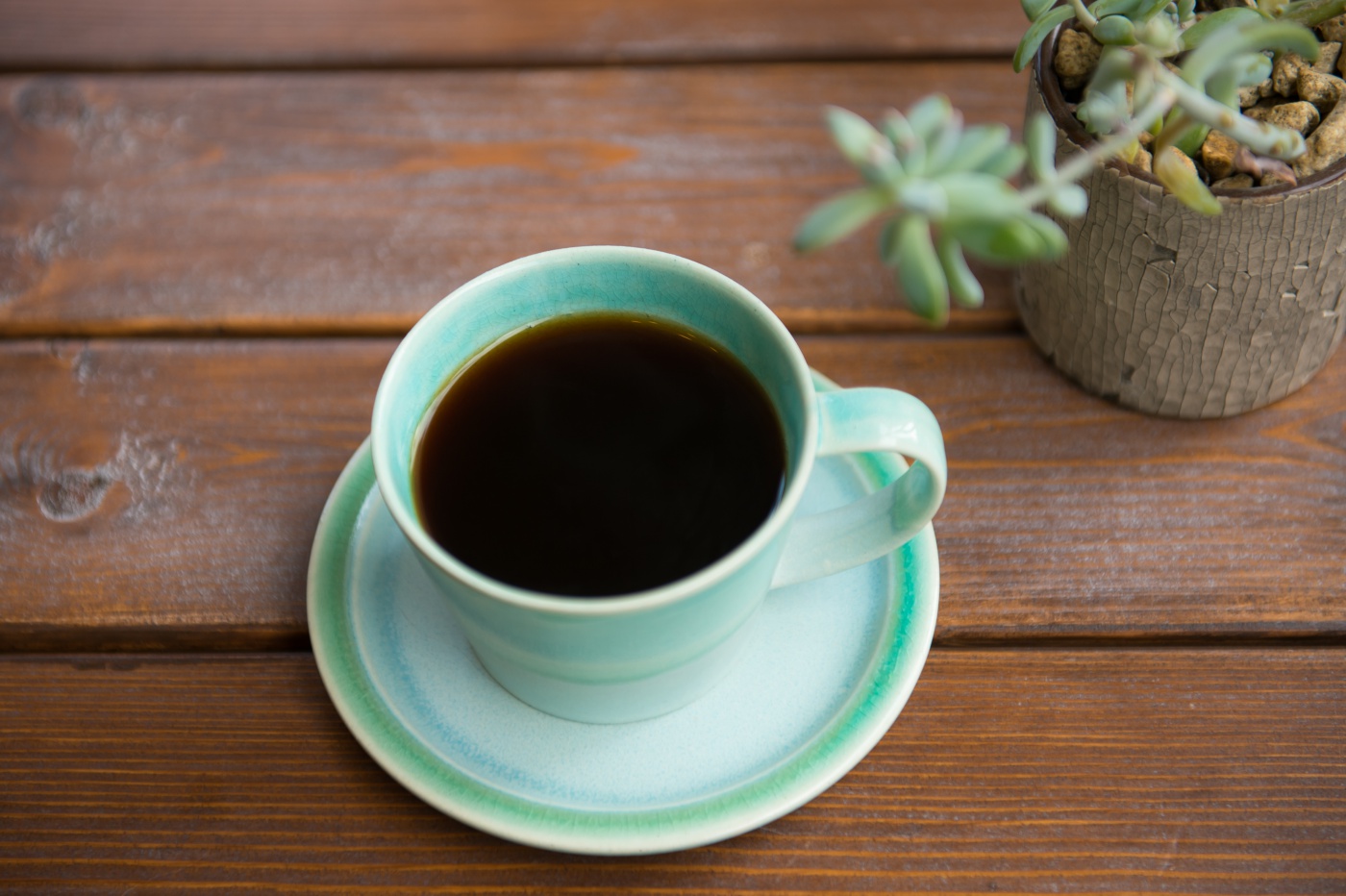 Takabe-san is a licensed Q Grader* by the Coffee Quality Institute (CQI). What that means is that she is certified to judge and select the finest coffee beans through every stage of production: farming, shipping, roasting, and extraction. Her expert knowledge about climate conditions, cultivation methods, and refinement are absolutely essential to the final stages of bean selection, roasting, and extraction. "But the thing I personally think is the most important when making coffee is simply that it tastes good," she said humbly.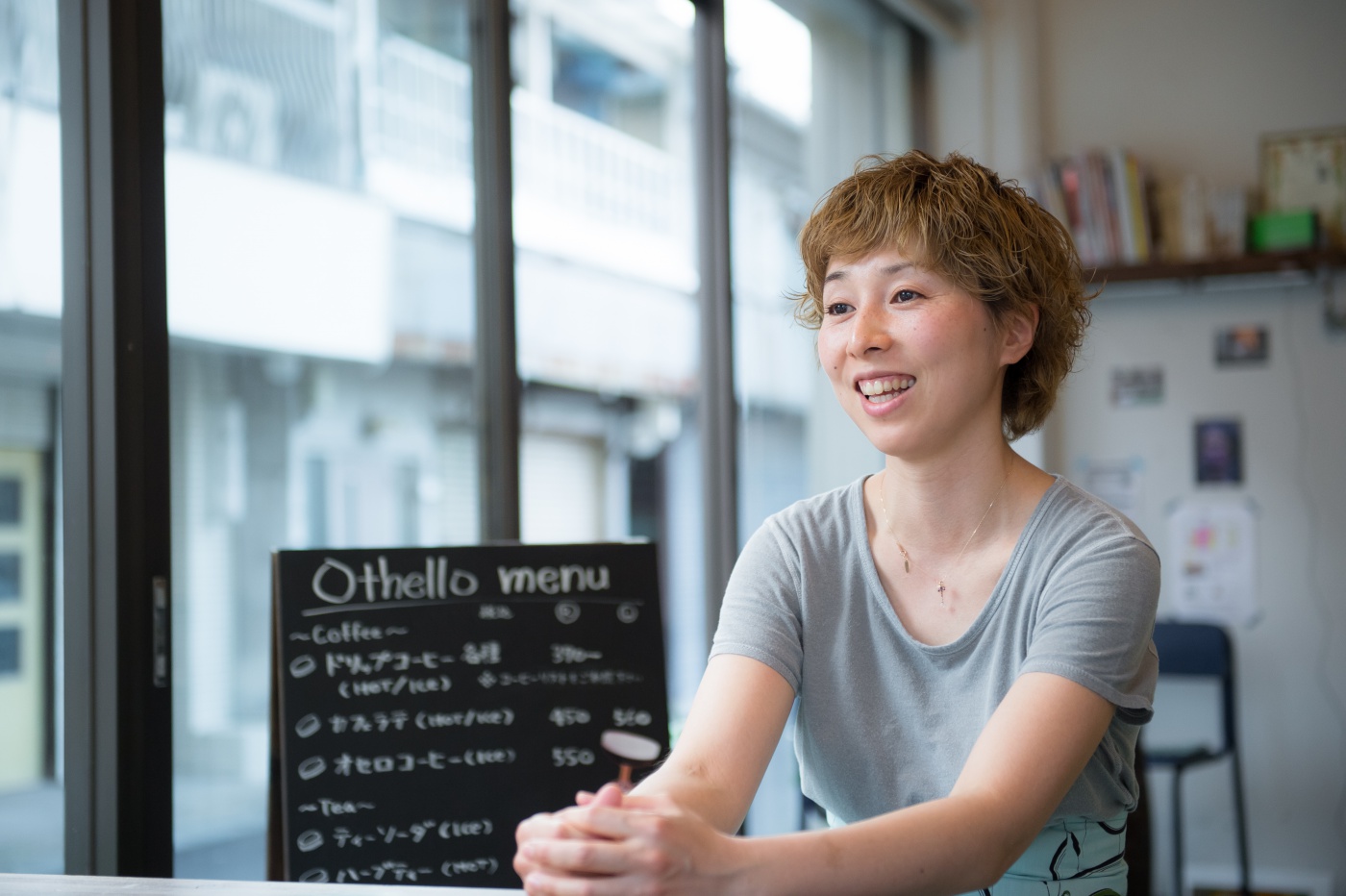 The name of the coffee shop comes from the board game Othello and its catchphrase "A minute to learn… a lifetime to master!". "It's simple, but you still can't quite crack it. In some ways that applies to my life, and I sense a lot of potential there. I want people who come here to be able to drink coffee that, just with one whiff can enchant you, and with one sip can change your mood," said Takabe-san as she turned to gaze out the window.
Othello Specialty Coffee Roaster
| | |
| --- | --- |
| address | 1F Riko bldg, Kusumoki-machi, Beppu-shi |
| hours | 8:00-17:00 |
| closed on | Thursdays |
| tel | 0977-88-2359 |
| parking | Three spaces |
| recommended for | Indonesia Aceh Alur Badak from 400 yen |