"I don't get called 'mama' very often — instead people usually call me Lin-chan," said the woman who moved from northeast China to Beppu 18 years ago as an exchange student.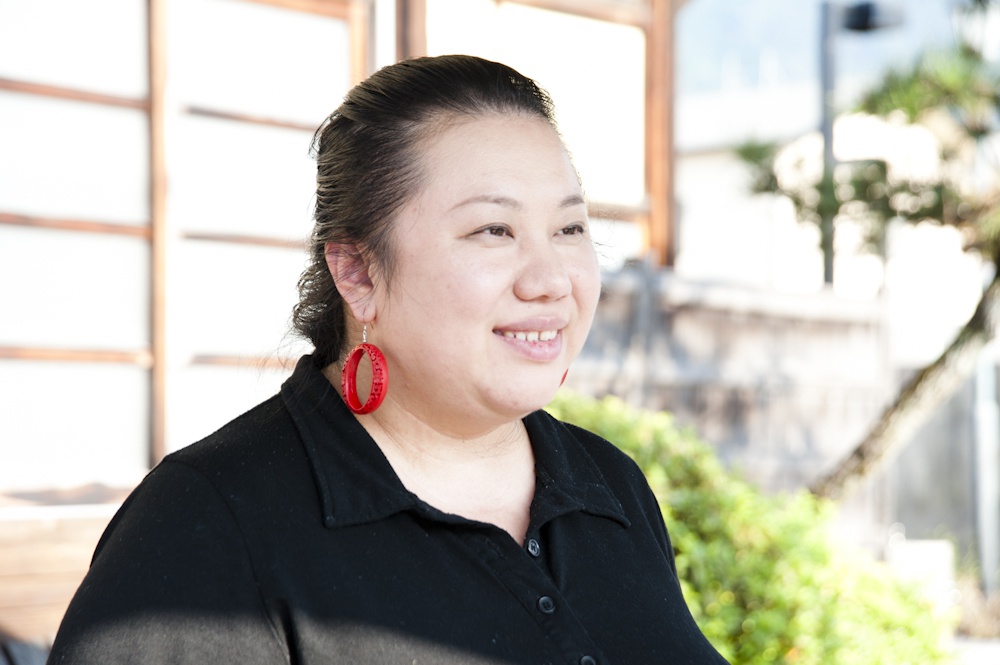 Lin explained to me the meaning of Karin (香凛), the name she chose for her restaurant when it opened in 2014. According to Lin, the kanji* for "smell" in Japanese (香) is also used in Chinese to mean "food looking delicious". The second kanji (凛) was chosen because it is phonetically similar to Lin's name. The pairing of these two kanji was, according to Lin, interesting and easy to remember and pronounce for Japanese people.
*Kanji are the adopted logographic Chinese characters that are used in the Japanese writing system.
When Lin was growing up, she lived with her grandmother. Helping her grandmother in the kitchen every day, she naturally came to learn how to make gyoza*, a staple food of Chinese home cooking. One of the most important characteristics of Chinese gyoza is the wealth of variation when it comes to the filling. It is that variation that Lin's regular customers are often seeking — placing their orders simply by saying "chef's choice".
*Gyoza are dumplings filled with ground meat and vegetables and wrapped in a thin dough, also known as pot stickers.
At Karin, gyoza are made fresh to-order. Lin stretches and flattens the thick gyoza dough before adding the day's filling — lamb and celery. The meat inside the gyoza is juicy, so she grills and steams them so as not to lose any flavor. "Unlike most restaurants I serve the gyoza grilled side down. I don't use any artificial flavorings, so at first they might taste a bit bland, but as you continue to eat, trust me you won't be able to stop," said Lin. As her hands moved about gracefully forming each gyoza, she spoke about the characteristics of her cooking style. One of the biggest, she said, was that everything that she makes contains her grandmother's "secret soup".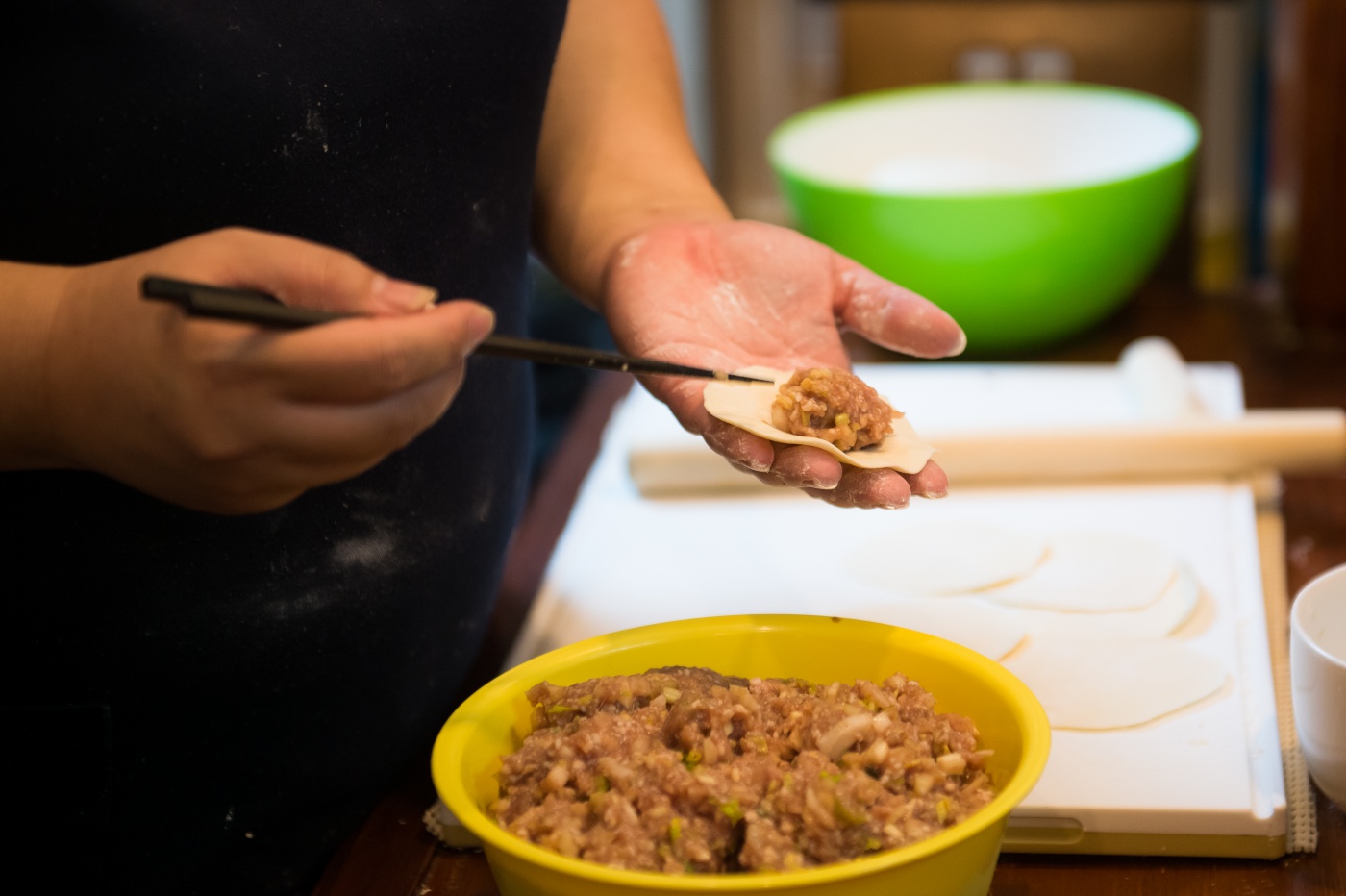 While I waited for the gyoza to finish cooking, Lin showed me a glass bottle containing her homemade chili pepper oil. She uses fresh chili peppers and dries them naturally so that when they combine with the oil, they increase its glossiness and transparency. To get the best smell, color, flavor, and spiciness she uses a blend of four different types of peppers.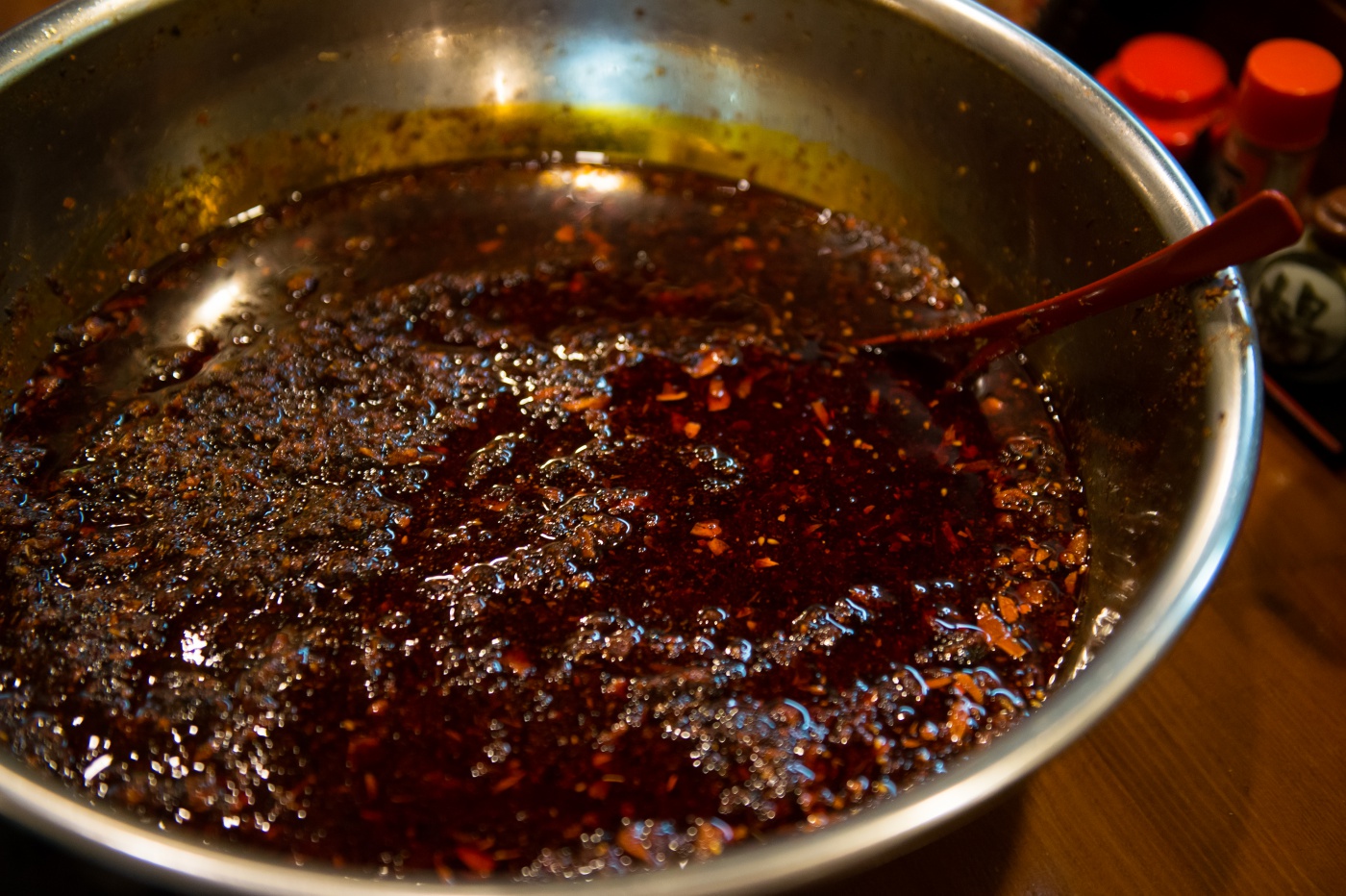 I dipped one gyoza in black vinegar and chili pepper oil and took a big bite. The filling of the gyoza was juicy and flavorful. The gyoza contain generous portions of vegetables too, so they're actually quite easy on the stomach. After eating the gyoza I had a feeling of freshness that lasted until the next morning.
"Lin-chan, I picked this from my family's garden today. Give it a try," said a customer who came in to give Lin a bunch of water spinach. At Karin, customers can make special requests by telling Lin what ingredients they like. "At first we only had one kind of gyoza, but customers would tell me they want tomato, or shimp, or even tofu gyoza, so I tried making them," said Lin. The gyoza here are extra special, because they are made specifically to suit the tastes of Lin's loyal customers. Without being too controlling, Lin is free to try new things and make gyoza that you can't find anywhere else. That's how Karin's menu came to be. All of this comes from one source — Lin's memories of making gyoza for her cousins and family.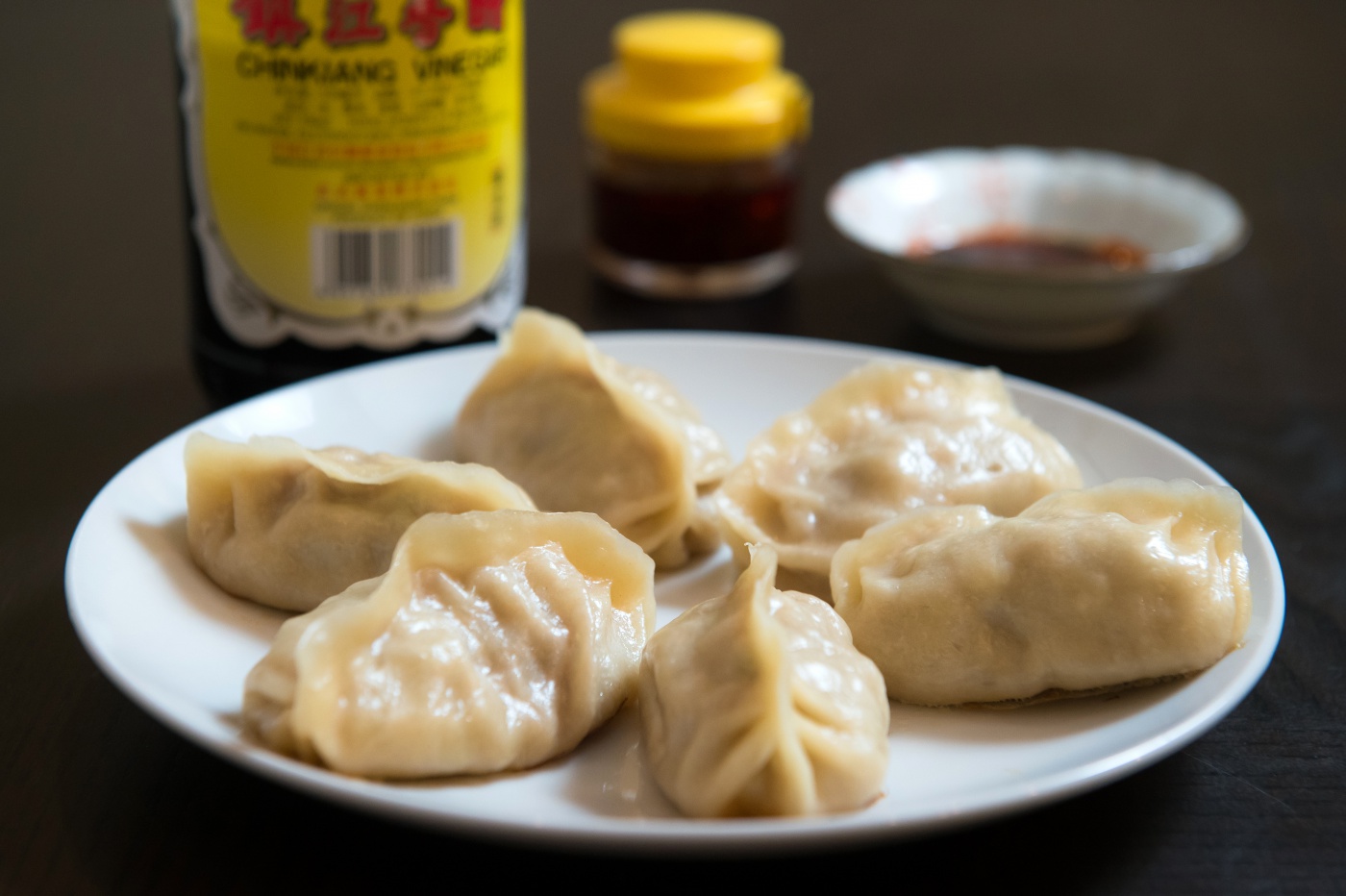 "Lin-chan, can I come in?" asked another regular customer. The gentleman poured himself a draught beer from the server at the far end of the counter and took a seat. At Karin, customers are like family, and the relaxed, carefree atmosphere of the restaurant is very comfortable. "'It's not just meat and vegetables that fills the gyoza — it's also the happiness of the people who eat them,' were the words that my grandmother would say to me. Finally I think I'm beginning to understand what she meant."
On her days off Lin likes to sing her favorite songs, play piano, and teach Chinese dance. "To me, Japan is Beppu," she said with a smile. Loved by all, Lin is an essential part of this city.
Karin
| | |
| --- | --- |
| address | 10-1 Motomachi, Beppu-sh |
| hours | 18:30-23:00 |
| closed on | N/A |
| tel | 090-9589-9545 |
| parking | N/A |
| recommended for | a homemade dumpling 140 yen |