Kaimonji Hot Spring became a publicly operated onsen* in 1936. As the years passed, the onsen was renovated many times, reaching its current state in 2010. The one story, tiled roof building has a gradual slope leading up to the entrance, making it easy for elderly visitors and people in wheelchairs to enter.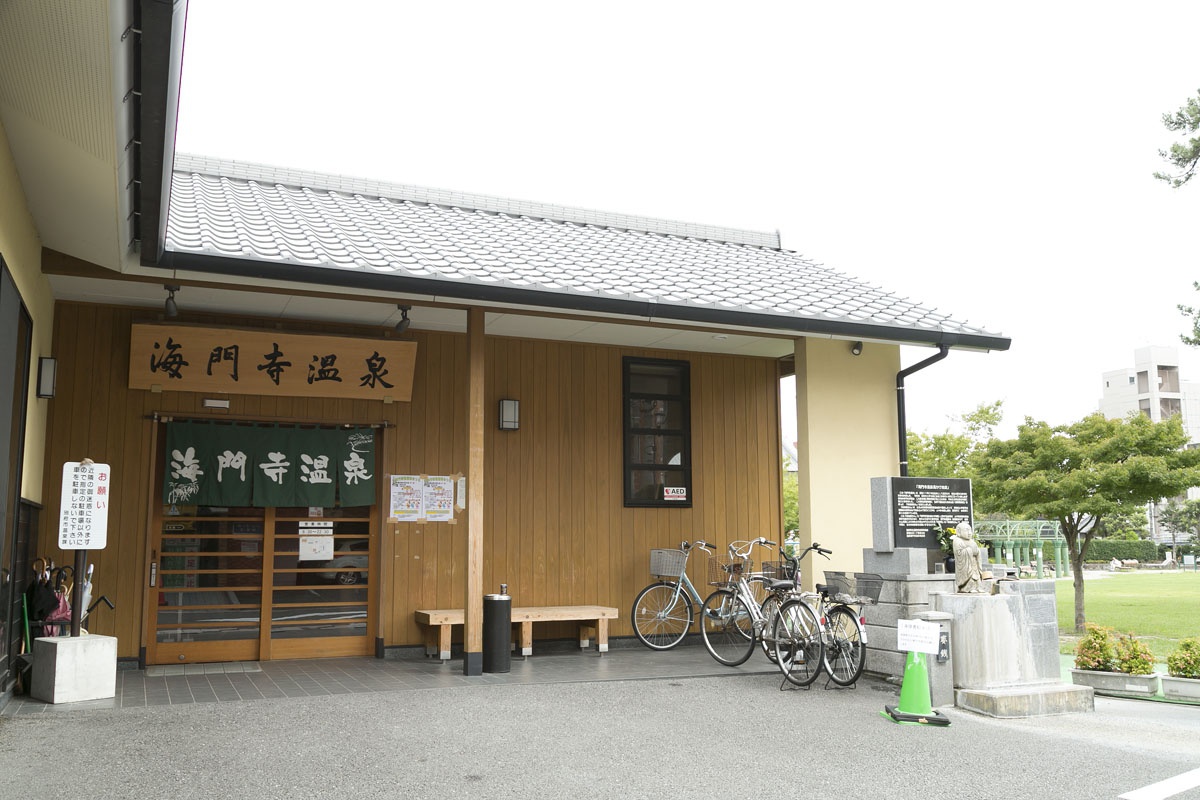 The lively receptionist, I learned, is a veteran who was been here since before the renovation. "Back in the day the baths used to be very deep. At that time there was a community center on the second floor — karate students would often hang out there," she said with an air of nostalgia.
Although there were showers in the bath area, I opted to scoop some hot water from the bath onto myself to rinse off before getting in. There was one bath that they keep at a lower temperature, so I started off by soaking my feet in the water, which was even more gentle on the skin that I imagined. From there I went to the hot bath, which was in fact quite hot. I went back to the milder bath and enjoyed leisurely soaking for a while. The light coming in through the windows danced on the surface of the water beautifully.
I learned from some of the elderly regulars that they like this onsen because it has showers, which are actually somewhat uncommon. "It feels good when you let the shower hit your shoulders and knees," said one regular with a laugh.
The receptionist asks each person, "Did it feel good?" as they come out from the bath area. I got the feeling that those words are a mix of pride and love that surely becomes a part of you after working as an onsen receptionist for so many years.
In the break room there is a large, round window from where you can see the park outside. "I like sitting here and enjoying this view every day," said the woman seated near me.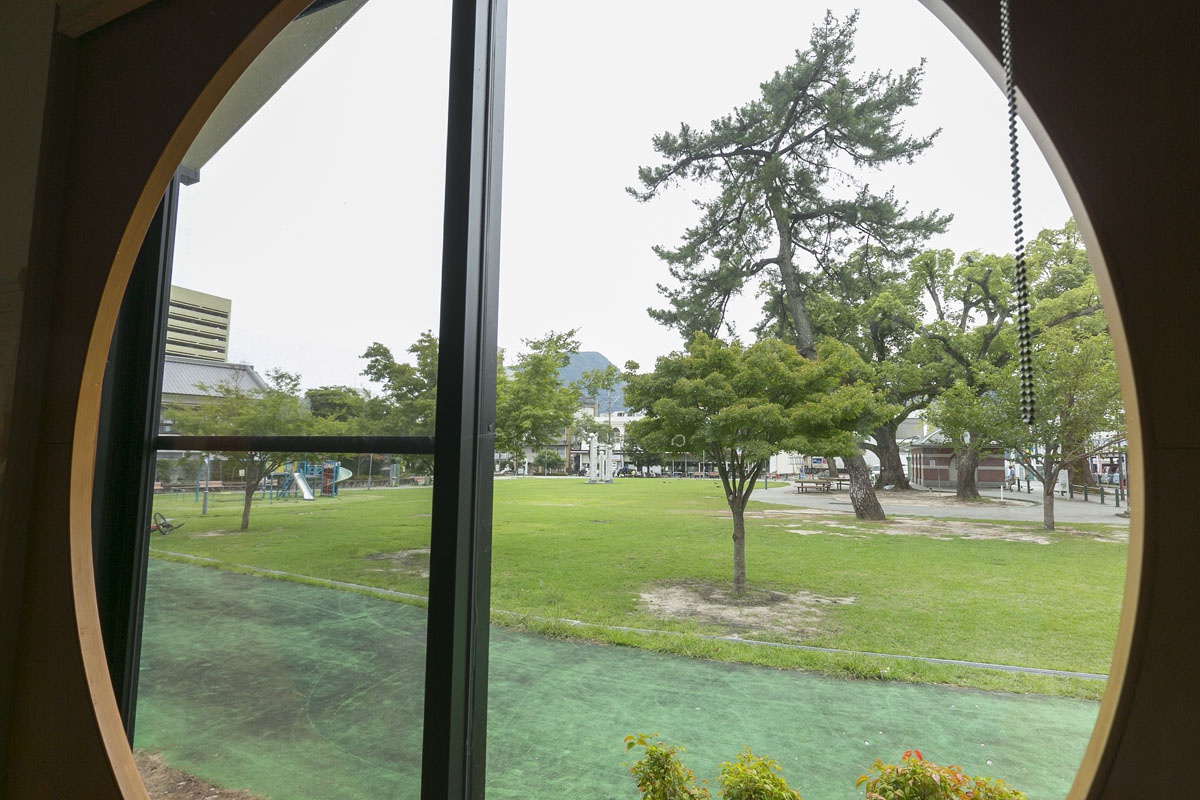 After my bath I decided I might as well take a walk around Kaimonji Park.
In the park I saw a pine tree leaning forward, and a camphor tree reaching out as if trying to touch it in a game of tag. All around the lawn were children playing happily. Seated on a bench in a sunny spot was an old woman who had just come from the bath. In the shade of a tree were men playing a game of shogi*. Everyone around me was just enjoying this relaxing time in the park without a care in the world. Surely the thick-trunked trees of this park have stood here watching people come and go for many decades.
*Shogi is a Japanese board game also known as Japanese chess or the Game of Generals.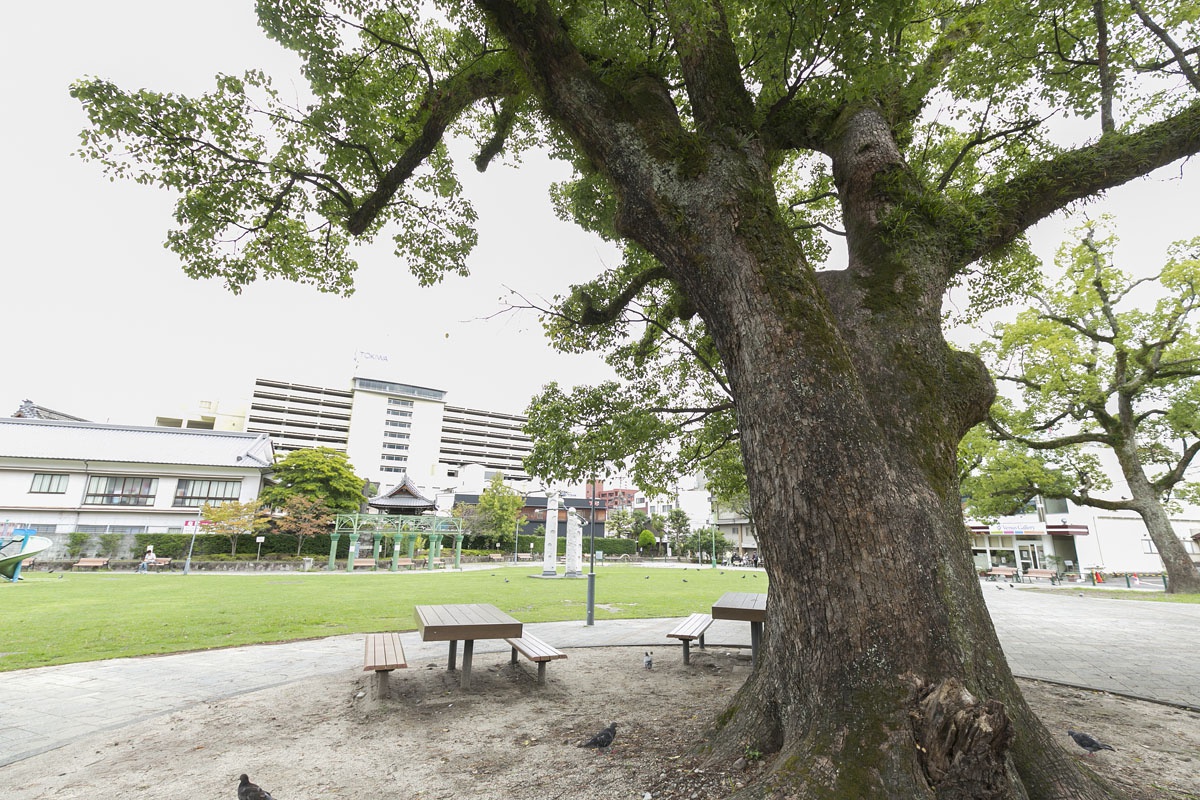 Kaimonji Hot Spring
| | |
| --- | --- |
| address | 2-3-2 Kitahama, Beppu-shi |
| hours | 6:30-22:30 |
| closed on | Closed for New Years cleaning (varies) |
| tel | 0977-22-3625 |
| parking | Three spaces (one of which is wheelchair accessible) / onsen customers can park for 1 hour free at Turumi Car Park |
| recommended for | bath fee 100 yen |