"What kind of tea do you enjoy, or is there any type you dislike?" he asked me. He must have noticed I wasn't sure how to answer the question, so he helped fill in the blanks. "For example some people dislike tea that has a strong fragrance, like Earl Grey which has the smell of Bergamot." One after one he named off various teas and their fragrances. He said he got into tea when he began dealing in tea leaves at his previous company. Around that time he read up on how to properly brew tea, and once he tried his first cup of properly brewed tea, he could never go back. "I made tea at home for my wife and she loved it. I was so happy to hear that. Then there was a period of time when my relatives would gather at our home and I'd often serve them tea."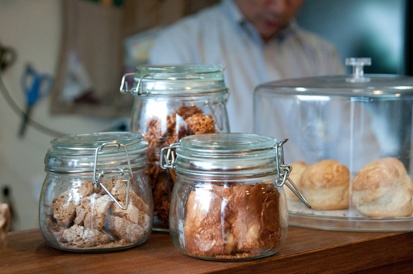 Because nothing makes a cup of tea more enjoyable like warm, baked sweets, Muratani-san began baking. He told me that he'd fill a glass jar with the sweets, and before he could blink his kids would eat every last one.
"I've got badminton after this," said a student seated at the counter. Muratani-san saw her out the door as she went on her way. "I grew up in this neighborhood, so I want this shop to be a place that looks after the local kids." Just as the words came out of his mouth I realized I could sense the warmth that filled this place.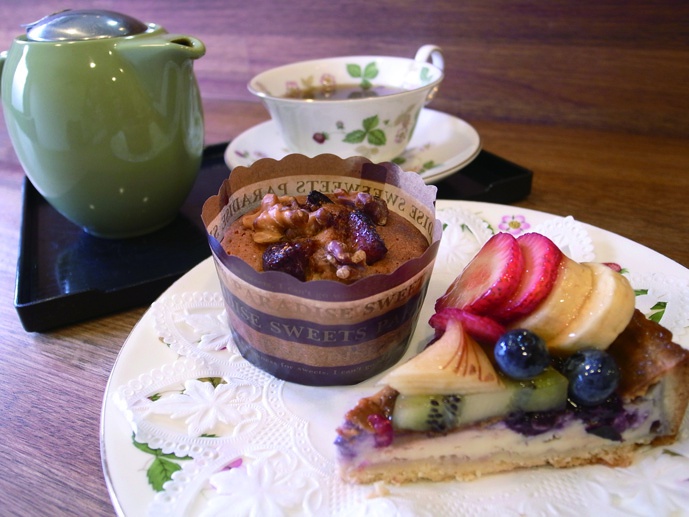 As I was leaving he suddenly asked, "Would you like a strawberry?" It was small, but my goodness it was sweet. I noticed a glass jar filled with something red. "Oh this? It's so easy to make," he said, then he quickly explained how he makes his homemade strawberry jam. I decided that once I got back from my trip I'd by a bunch of strawberries and make strawberry jam, then keep it in a glass jar just like the one I saw here.
Tea Room Cozy Corner
| | |
| --- | --- |
| address | 3-2 Motomachi, Beppu-shi |
| hours | 12:30-15:30/ 17:30- 21:30 |
| closed on | Tuesdays |
| tel | 0977-75-8187 |
| parking | two spaces |
| recommended for | seasonal fruit tart 400 to 480 yen |