As I took a seat, I noticed a display of photos on the wall showing a variety of cappuccino art designs. Intrigued, I decided to order one myself. "Faces are hard, but I can draw just about anything you want on it. What'll it be?" said the barista casually.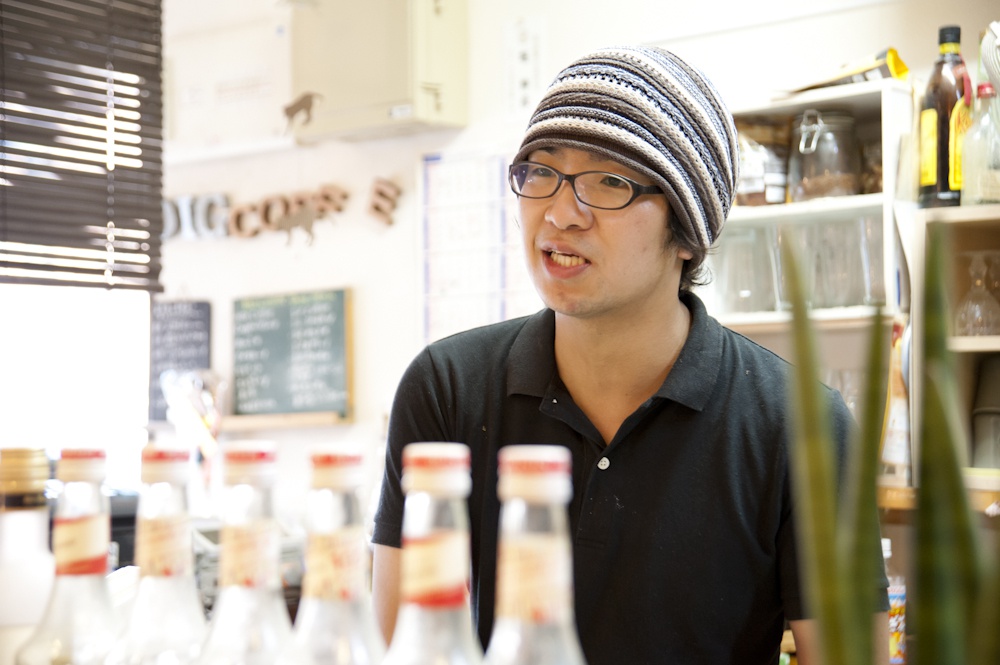 I remembered a cat I saw in an alley and asked for a cat. I then watched as he poured the fluffy milk into the cup of coffee and began delicately and skillfully drawing a cat with a wooden skewer. After a few minutes I was looking at proper cat with a striped tail delicately floating in the cup. While it was of course cute, I was particularly surprised by the taste. The richness of the coffee was brought out by the milk, giving it a deep, full-bodied taste.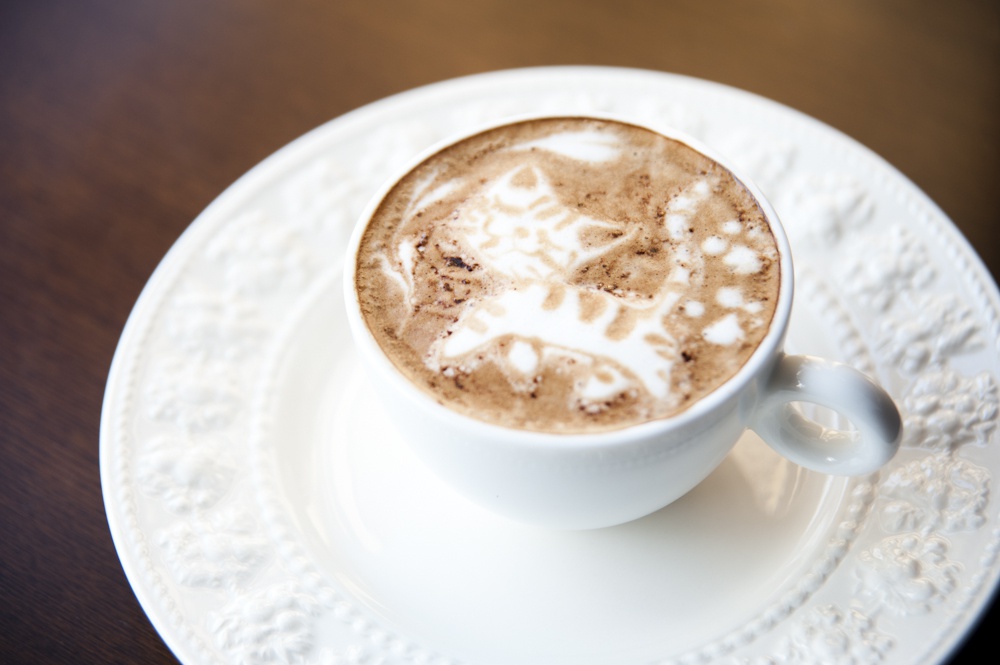 In the glass showcase by the entrance were several different types of cakes and tarts made with generous amounts of seasonal fruits such as apple, peach, blueberry, and more. I really wanted a slice of apple pie, but unfortunately it was sold out. As I was struggling to decide what to get, the manager Hori-san suggested the "Beppyon Kabosu Rare Cheesecake". Beppyon is the character mascot of Beppu, and kabosu is a type of citrus. The moist cheesecake had a delicate hint of citrus flavor, provided by the kabosu grown in Oita Prefecture. The cake, made in the shape of Beppyon, was so cute it almost felt like a shame to eat it. I was a bit hesitant to stab Beppyon with a fork, but once I took a bit I couldn't stop. The cake also paired perfectly with my cappuccino.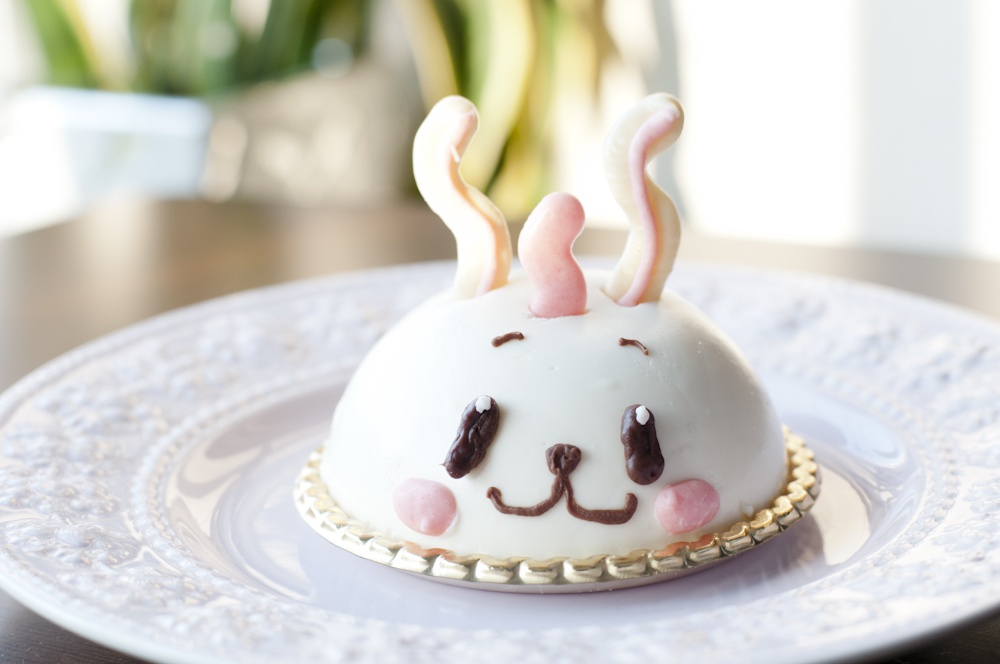 The coffee here, I learned, is made with Brazilian coffee beans sourced from Green Spot, a coffee shop in Beppu that deals in the highest quality coffee. Hori-san told me that he tried many different varieties of coffee beans from around the world, but that the coffee he got from Green Spot was the best. "In each cup of coffee you can taste the decades of experience of the owner of Green Spot. I have a lot of respect for him," said Hori-san.
Hori-san's wife then walked into the cafe carrying their daughter. The young girl sat at the counter, received a banana from her father and happily devoured it. Her name, just as her father's, was actually chosen based on a suggestion given by an elderly regular customer.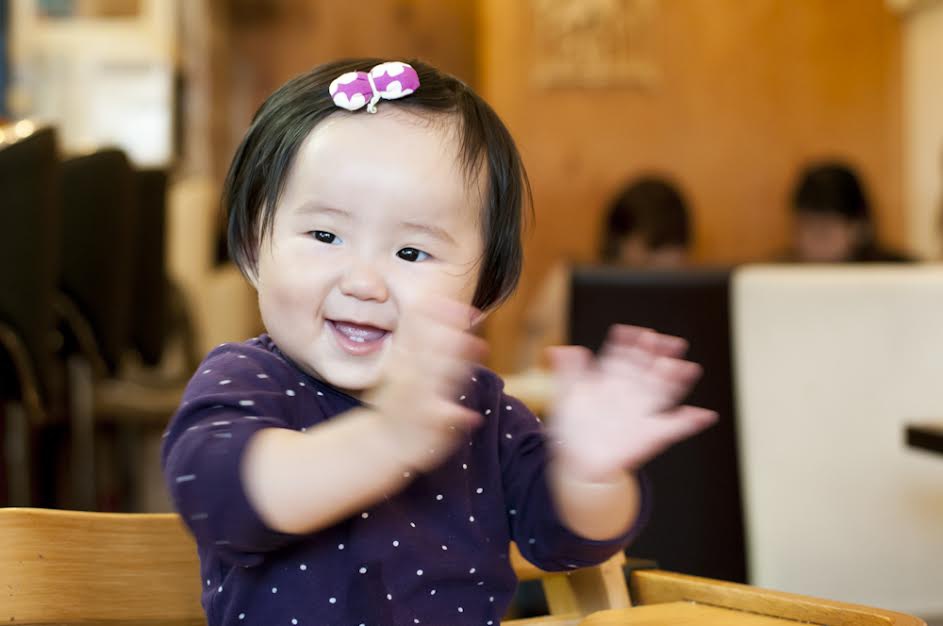 Hori-san runs his cafe on a few simple principles — treat seasonality with importance, and choose things that taste good to you.
"In this line of work it's easy to tell when your customers are happy. I think the cakes and the coffee I make here is good. When people buy cakes as souvenirs to give to friends back home, I always imagine the look of joy on their faces when they take that first bite. That look makes it all worth it."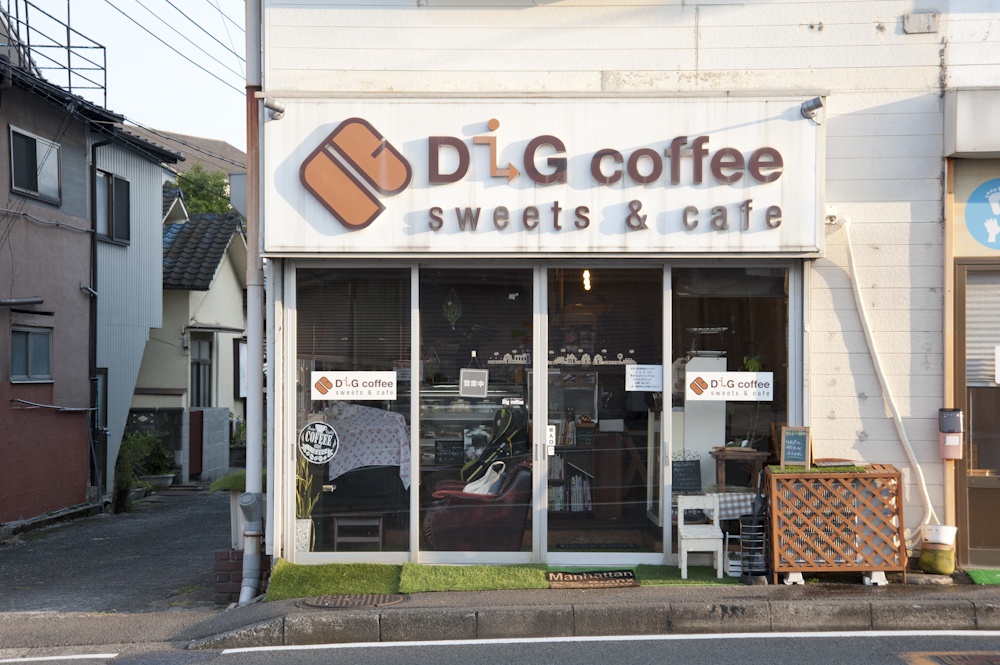 I learned from Hori-san that his next goal is to get into farming. In the garden outside his home he has created a field which he calls "DIG Plantation", named after the cafe. "DIG", by the way is the literal meaning of Hori-san's name. As the name suggests, this cafe will continue digging in search of flavors that make people smile.
DIG coffee
| | |
| --- | --- |
| address | 2 Shoninminami, beppu-shi |
| hours | 10:00-20:00 |
| closed on | N/A |
| tel | 0977-67-0029 |
| parking | three spaces |
| recommended for | Beppyon Kabosu Rare Cheesecake 420 yen |