The interior of the restaurant was mostly black, and I could see there appeared to be a private room toward the back. Atop the counter was a large wooden cutting board and a flat iron griddle. "We serve dishes made with the ingredients that are available to us, so many things aren't written on the menu. We also make it a point to serve things that most people wouldn't be able to have normally at home. We stock a variety of seafood, and we bring in vegetables from Hakata and Kyoto." I sat and watched as the chef skillfully grilled various pieces of seafood on the hot griddle — the sight of it was making me quite hungry. I told him that I wanted to start with something simple, and he recommended the steamed Oriental clam. The plump clam meat was tender, and I couldn't let that delicious, flavor-packed soup created by the steam go to waste.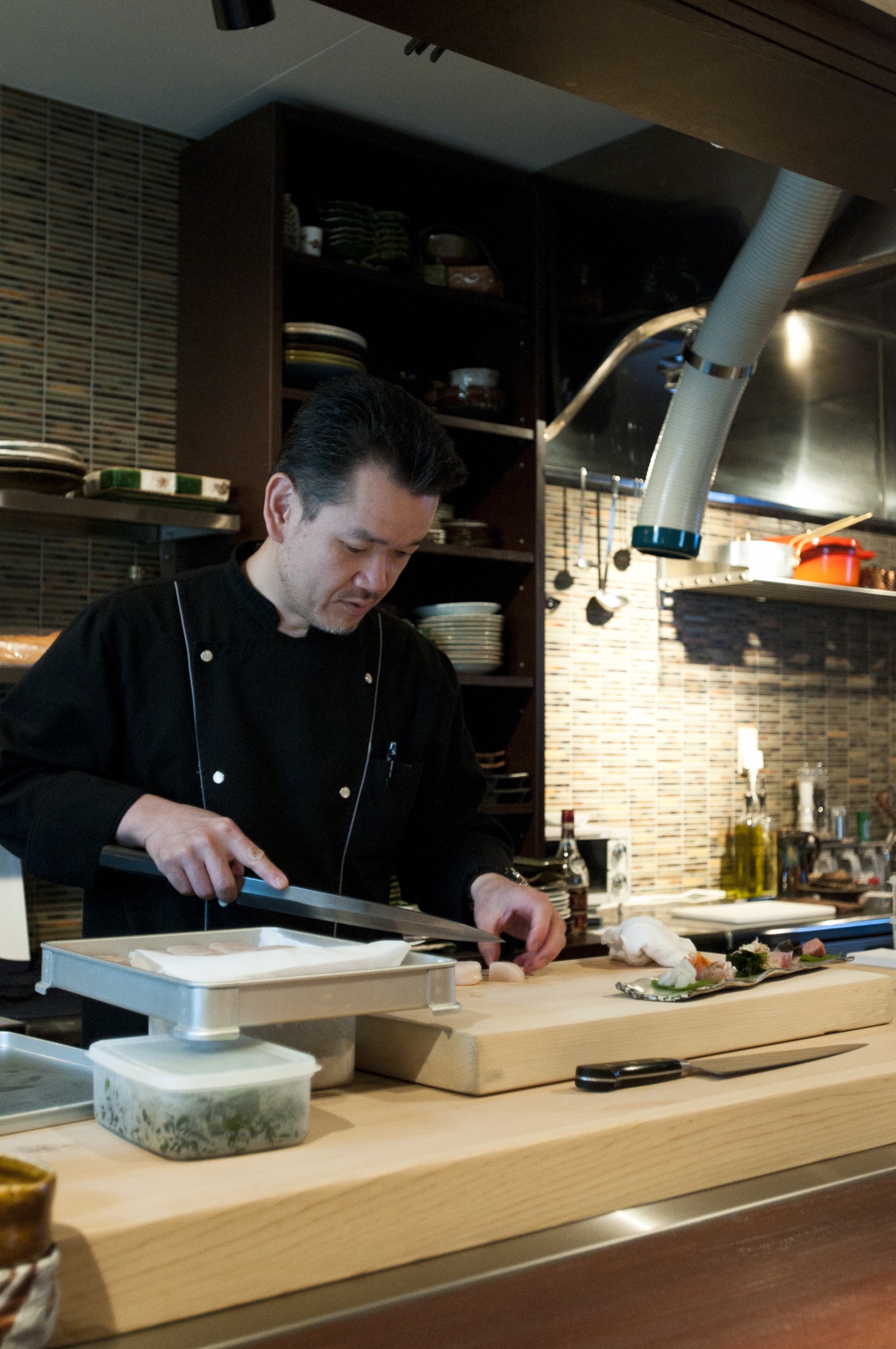 The chef and owner of this establishment was formerly chef of a restaurant in Fukuoka. Realizing he wanted to own a restaurant in his home town of Beppu, the chef remembered that a classmate of his owns a restaurant on the first floor of this building, so he opened his new place upstairs. As I sat and chatted with the owner, a man entered alone, took a seat at the counter and ordered foie gras and a glass of wine. This is the type of restaurant where a scene like that wouldn't feel out of place. I told the chef that this seemed like a place to come for truly special occasions. "Yes I think so too," he said, looking pleased, "That's the kind of restaurant I wanted to make."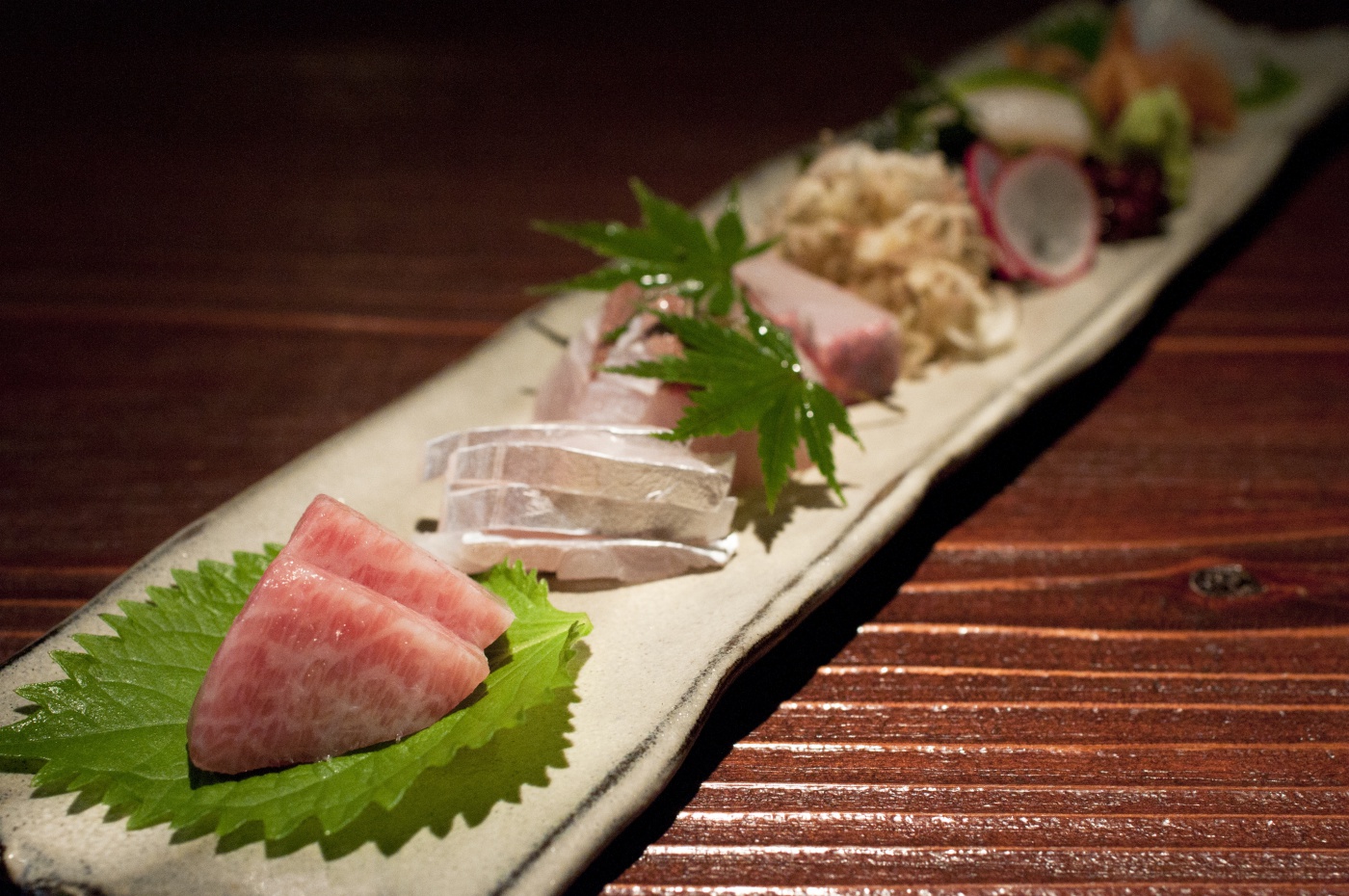 "I had it made so that there is no boundary wall between the counter and the kitchen. I want customers to see the food being cooked — to see everything." As he spoke he deftly sliced fish, making sashimi with a long sushi knife. I was instantly mesmerized. I commented on the considerable size of his cutting board. "Oh this? This isn't acutting board. The thing on top of it is a cutting board. This is a leftover piece of Japanese cedar from when I had this counter made," he replied. I learned that the cedar that forms the counter was an 80-year-old tree that was processed and dried for 20 years. It's a century-old piece of wood, and one of the most important pieces of this restaurant. "Interaction with customers is important. I wanted to be able to work at a distance at which both mine and the customer's face is clearly visible." I finished my food and was on my way, feeling quite impressed by everything the owner said.
Ten
| | |
| --- | --- |
| address | ARIGATT BIL2F 1-2-2 Kitahama, Beppu-shi |
| hours | Mondays to Saturdays 17:00-25:00 (last order 24:00) / Sundays and public holidays 17:00-23:00 (last order 22:00) |
| closed on | N/A |
| tel | 0977-26-1120 |
| parking | N/A |
| recommended for | sashimi plate (one serving) from 1,600 yen |