Inside the store was packed with rows of colorful pens and markers, paints, letter sets, and more. When I was a child I would have gone nuts in a store with such a broad selection like this. I'd have easily spent my whole allowance on pens, pencils, and notebooks.
Akashibunshodo saw it's 90th anniversary in 2017. I met with the third generation owner Akashi Yasunobu-san and his wife Tomoko-san, who is the manager.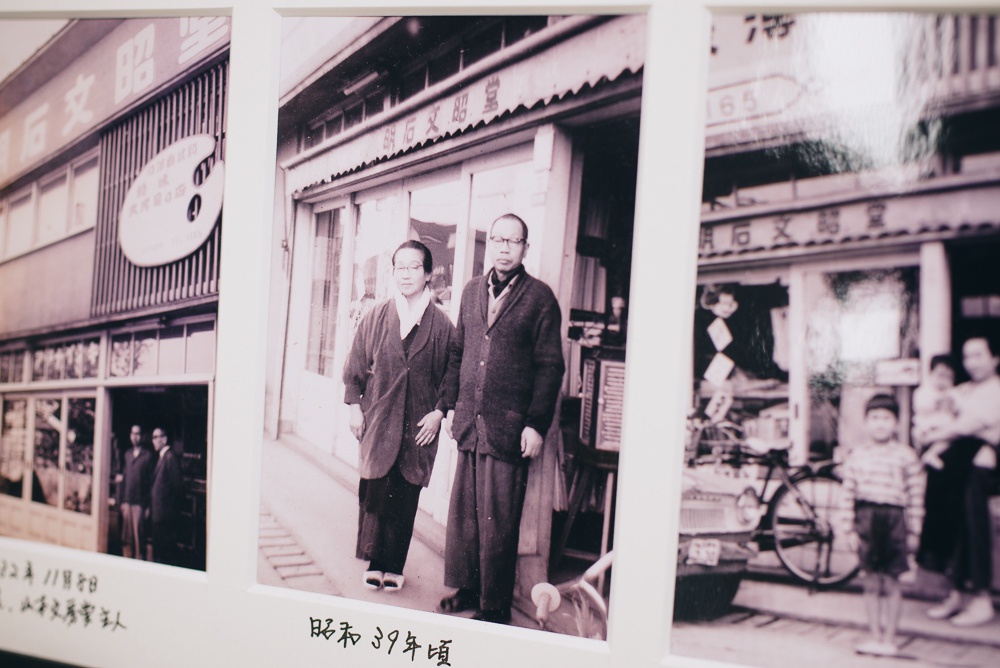 This store's history goes back to 1927, when it was founded by the original owner Akashi Yasuyoshi-san and his wife Shizue-san in their hometown of Beppu. The "sho" in the store's name, Akashibunshodo, comes from the Japanese era in which it was founded, the Showa Era. At that time Beppu prospered as a destination for health retreats, and was visited by many Japanese painters and writers. In those days this shop must have been quite popular with such cultured folk.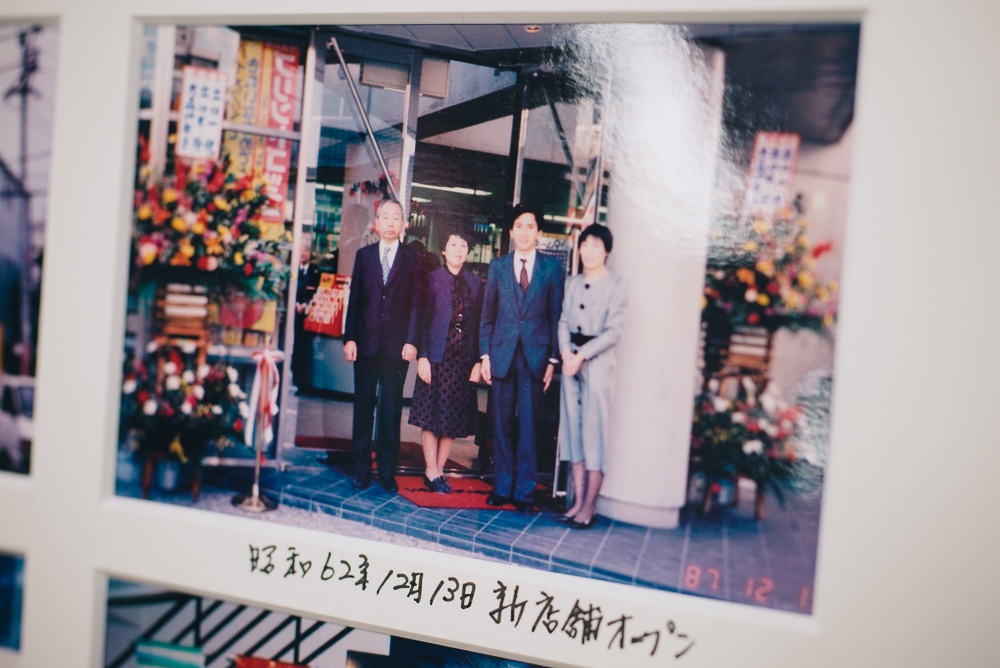 At the time when the second generation owners Tada Yoshikazu-san and his wife Kinu-san took over, there was art high school nearby called Oita Kenritsu Geijutsumidorigaoka High School. In those years many of those young aspiring artists would come here for all their supplies.
The third generation and current owner Yasnobu-san grew up here in this store watching his grandfather and father work and helping where he could, for example restocking the oil paints.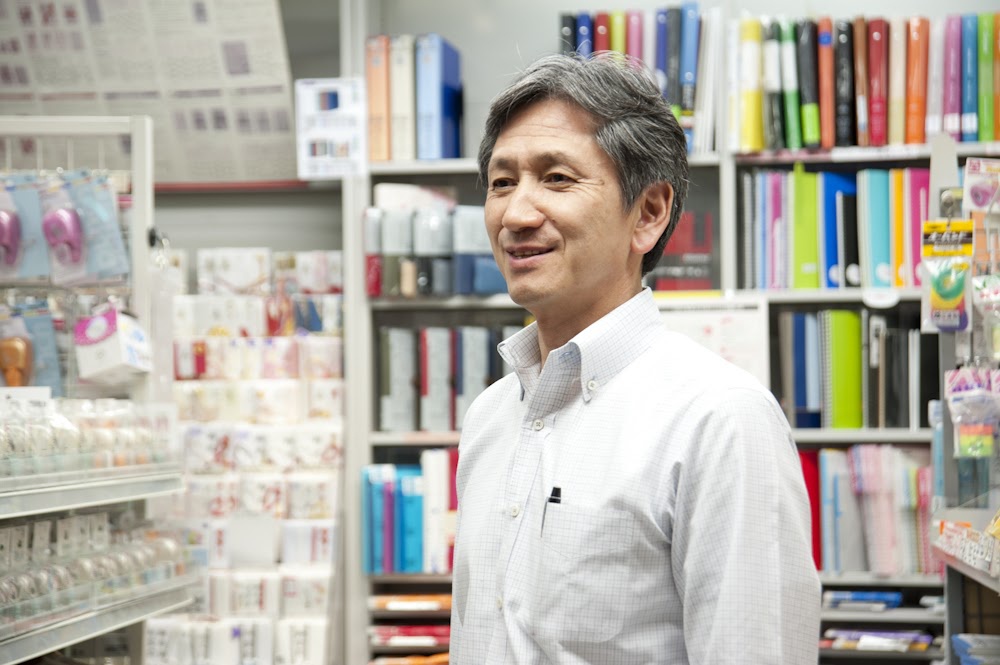 The year that he took over the family business was 1998. To commemorate the shop's 80th anniversary they released a series of eight original inks based on the eight most famous onsen* in Beppu. For the 90th anniversary they created a fountain pen with a vivid blue color conceptually tied to Beppu Harbor. In Yasunobu-san's heart will always be the sights and colors of the town he was born and grew up in.
*An onsen is a public hot spring.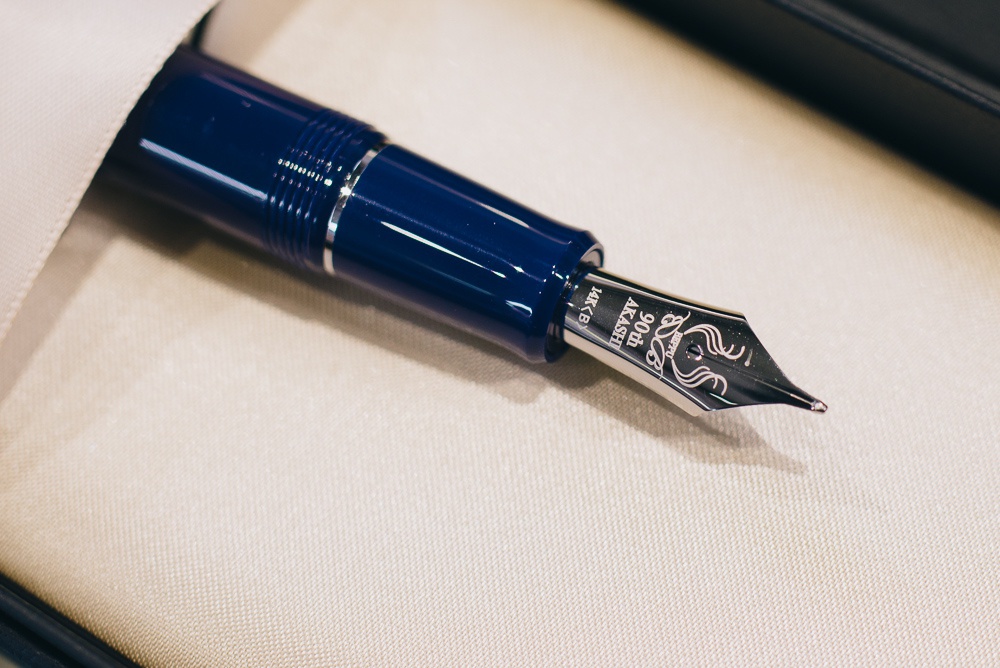 "We made this because we wanted to express our gratitude to our customers," said Yasunobu-san. He then handed me a postcard sized piece of paper folded in two. I opened and inside were the words "When you think about someone and pick up a brush or pen to write, your heart and soul is contained in each individual character. I think that to write is a way to spend time thinking about someone." The words hit home with me, and Yasunobu-san smiled. "This is a pamphlet we made that contains the words of appreciate I wrote to our customers as a motif. In commemoration of our 90th anniversary, I handed these pamphlets out to customers."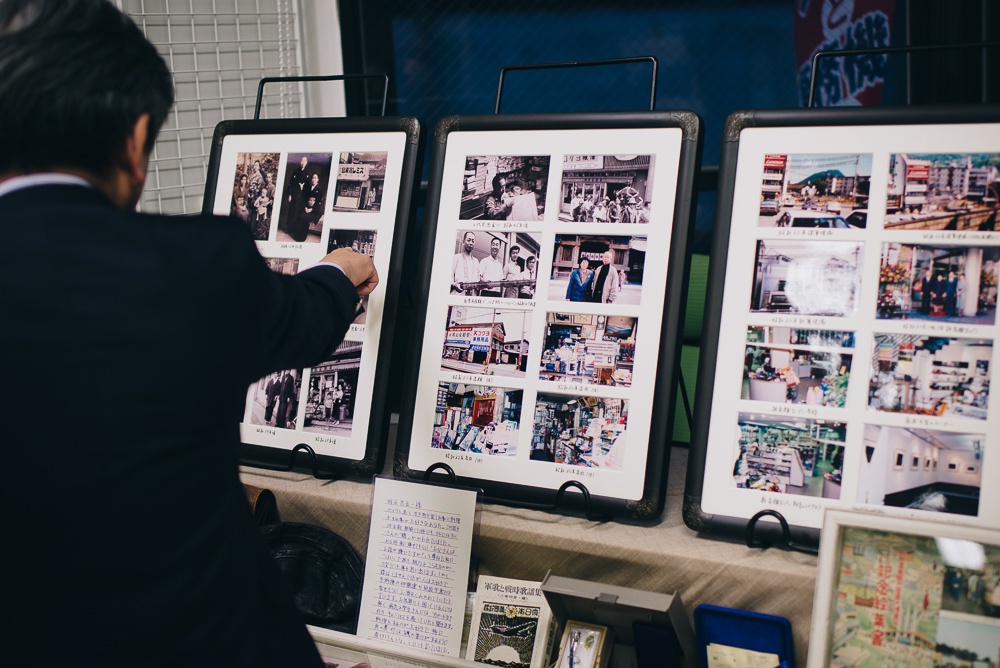 Listening nearby, his wife Tomoko-san said, "I wrote something too," and pointed to a panel inside the shop. The words, written in vivid blue ink, were addressed to the first and second generation owners. First, an anecdote about the second generation owner who like to cook. "You always said that when you simmer a fish, you have to cook it so that it tastes like the seashore." The shade of the ink used was beautiful, and the style of handwriting had a distinct character. I remember feeling moved by the warmth that came across through each of the characters she wrote — something that just doesn't happen with machine printed text.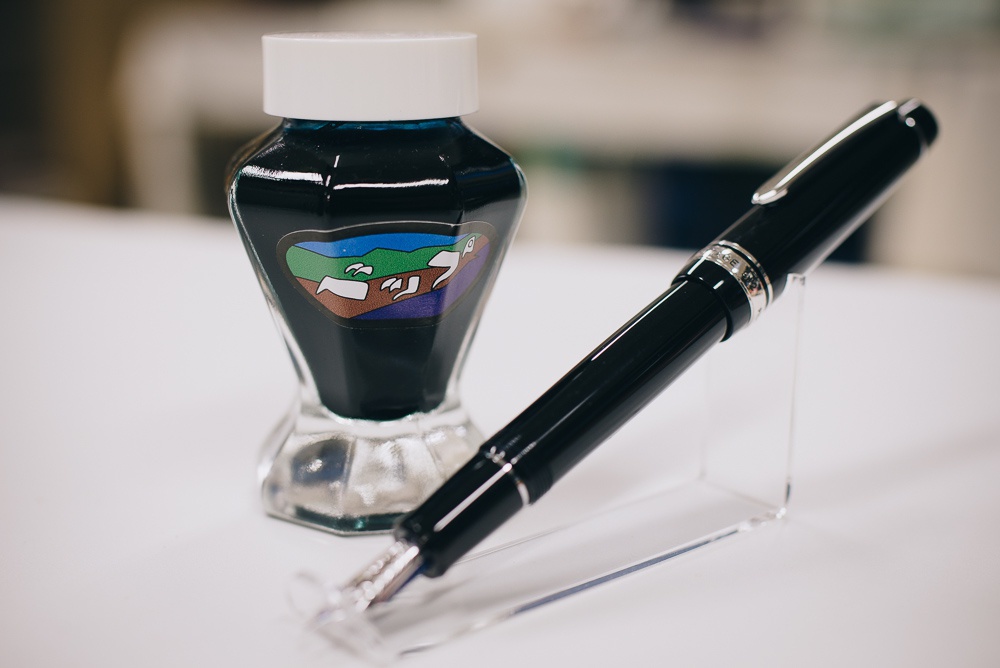 "It's a small store so we don't have that big of a selection, but we can find and order just about anything you can think of. We aim to be a store that cares deeply about and relates to the specific preferences and needs of our clientele," said Yasunobu-san with pride.
Nearby his daughter, Yoshiko-san, who is very knowledgeable with regard to stationery supplies, stood happily helping a customer. To me she recommended her favorite letter stock. The paper was decorated with a cute Beppu motif design, and is an original product of Akashibunshodo.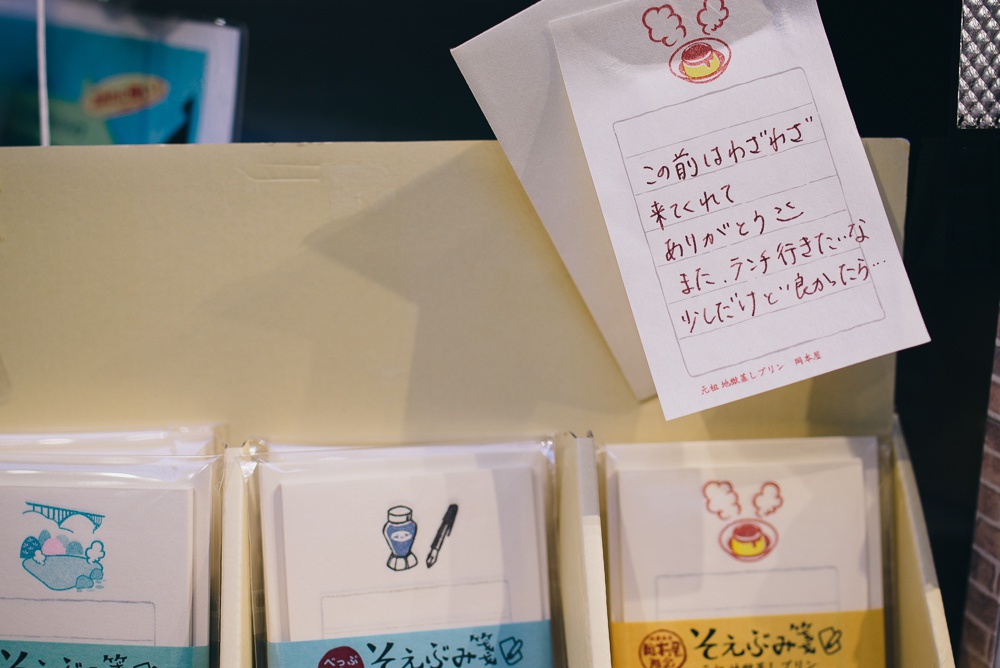 "I hope you write down something wonderful that you remember from this trip to Beppu," she said with a smile. The illustration on the letter stock was one of Beppu's famous steamed puddings, complete with steam rising from it. I had to get it as a souvenir.
I decided that when I got home I'd try writing a short letter on it. Maybe if I write down even a small, trivial anecdote using my own words and my own writing, I will be able to remember my time here in vivid detail when I read it again some day.
Akashibunshodo
| | |
| --- | --- |
| address | 11-10 Ekimaecho, Beppu-shi |
| hours | Monday to Saturday 10:00-18:30 / Sunday and public holidays 10:00-18:00 |
| closed on | third Sunday of the month (may vary during special sales) |
| tel | 0977-22-1465 |
| parking | 12 spaces |
| recommended for | original ink 2,000 yen |